Latest Jobs in Transplantation Institute in Rawalpindi
Latest jobs announced in institute of urology and transplantation Rawalpindi. But Candidates from all over Pakistan can apply for these jobs.
The details of these latest jobs are given below in the table.
S.no
Post
BPS
No of seats
Qualification
Age Limit
1.
Senior Registrar
Urology
18
03
MBBS
35-45
2.
Senior Registrar
Nephrology
18
01
MBBS
35-45
3.
Pathologist
18
01
MBBS/ PhD in
relevant subject
26-45
4.
Purchase Officer
17
01
MBA or equivalent
18-25
5.
Medical Officer
17
09
MBBS
Regular house job
25-35
6.
Anesthesia
Technologist
17
04
BS Anesthesia technology
25-35
7.
Head Nurse
17
04
MS nursing
25-35
8.
Blood Transfusion
Officer
17
01
MBBS
18-25
Official Advertisement:
How to apply:
Candidates must have to send the hard copy of their applications with CVs attached to the Institute of Urology and Transplantation on or before 20th September 2022.
Other Latest Jobs:
Follow Proinfodesk for more updates. Thanks
Paid Internship Opportunities at Institute of Management Studies, Peshawar
Applications are invited on plain paper from highly motivated students (both male and female) of MBA/MPA/BBA/BS Computer Science for paid internship opportunities at IMS. The selected students will be placed in the Program, Accounts and IT sections of the institute and their JD will along with other terms and conditions will be shared with them at the time of selection.
Preference will be given to those having documented past work experience voluntary basis or otherwise. Only shortlisted candidates will be invited for interview. The positions are on temporary basis and will last till the availability of funds. This is not a permanent job opportunity, and the institute may discontinue some or all the positions anytime.
The applications along with the copy of CNIC and educational testimonials must reach the office of the undersigned not later than Monday September 5th, 2022, during office hours.
Director
Institute of Management Studies,
University of Peshawar
To apply for latest KPPSC Jobs CLICK HERE
For Ministry Of climate Change jobs Click Here
EPR registration | Don,t miss any govt job
The Government Of Pakistan has established an online job portal for all citizens. EPR registration phase 2 has started now. The purpose of this online job portal is to provide the candidates with all updates about the jobs. So that they can never miss any job application. The portal is named Employment Processing Resource (EPR).
What is EPR?
EPR Employment Processing Resource is an online job application submission platform. Through which the candidates from all over Pakistan can apply for the job of their interest. The procedure is very simple. First, you have to register yourself on the EPR. Then you have to submit details about your education and degree. EPR will inform you about the latest jobs related to your field of study.
And the best thing about EPR is that you can also apply for any job from EPR. Just you have to submit the application fee and scanned documents required for a job. This was a general introduction to EPR. Now come to the detailed procedure.
EPR Registration:
The registration process is very simple. You can register online on the website. S well as you can register your self via post.
For online registration visit the link
The registration page will open
You have to fill out the form carefully.
Then add your academic details
Enter the job experience if you have any
At the final stage, you have to submit the service fee for EPR registration through easypaisa
In the Easypaisa app Click on the option "corporate short names". Click on EPR and pay the fee.
After successful payment, note the transaction ID and enter this ID on the online form.
After that your account will be active and you will start receiving notifications about the latest govt Jobs.
How to register offline:
For Through post registration, Follow the link to download the form.
Fill out the form carefully
Deposit the EPR fee of Rs.730/- to HBL or Faisal Bank at any branch.
All the required documents should also be attached with the EPR registration form. The documents are as follow
1.Deposit Slip
2. Attested copy of CNIC (front/back)
3. Passport size picture (white background)
4. Domicile (Attested)
5. All educational certificates copies (Attested)
6. Job experience certificates if any.
After registration, the candidate will be notified for every latest job updates. And the good news is that candidates interested in any job can also apply through EPR. Just submit the job application fee and 100Rs service extra charges. And EPR will apply to the Job for you. But on the Job application submission, you would need your educational documents. Which should be uploaded once.
Schedule of Charges for EPR Registration: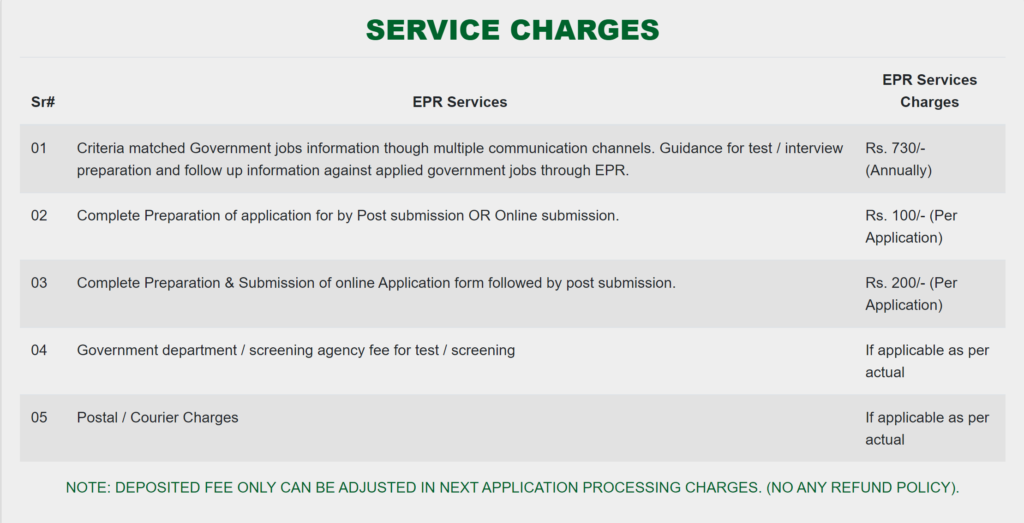 Terms and conditions:
Online Teaching Job, online science tutor
A private tutoring academy has taken the initiative of online tutoring in Pakistan. AK tutoring has announced an online teaching job for fresh graduates.
The job is basically for science students. A and O level students can also apply for this post
Job type: Full time/Permanent(second shift/afternoon)
Salary: 50000-60000/month
Age: 18-35 years
Job requirements:
O and A Levels with Science (preferred)
Bachelor's Degree in education or your subject
valid teaching certificate( not compulsory)
Strong communication and presentation skills
Computer Proficiency
Fresh graduates are encouraged to apply
Job description:
In this position, you have to utilize an e-learning platform to deliver video lectures. Upload and assign reading materials, and administer quizzes and tests. You will also facilitate discussions on the class forum to keep your students engaged.  Must be available to the students for extra help. This job is for multiple cities including Peshawar, Lahore, Islamabad and Karachi.
Online teacher roles and responsibilities:
Develop individual lesson plans.
Live teaching
Create or live stream video lectures for students
Assign reading, homework, and projects to help your students learn the material.
Grade your students on their performance and provide feedback.
How to apply:
To apply for this job follow the below link and submit your CV
Last date for apply is 21 August, 2022.