Paid Internship Opportunities at Institute of Management Studies, Peshawar
Applications are invited on plain paper from highly motivated students (both male and female) of MBA/MPA/BBA/BS Computer Science for paid internship opportunities at IMS. The selected students will be placed in the Program, Accounts and IT sections of the institute and their JD will along with other terms and conditions will be shared with them at the time of selection.
Preference will be given to those having documented past work experience voluntary basis or otherwise. Only shortlisted candidates will be invited for interview. The positions are on temporary basis and will last till the availability of funds. This is not a permanent job opportunity, and the institute may discontinue some or all the positions anytime.
The applications along with the copy of CNIC and educational testimonials must reach the office of the undersigned not later than Monday September 5th, 2022, during office hours.
Director
Institute of Management Studies,
University of Peshawar
To apply for latest KPPSC Jobs CLICK HERE
For Ministry Of climate Change jobs Click Here
KPITB Latest KPK Jobs 2022
Latest KPK Jobs 2022 updates. KPK IT board (KPITB) has announced various vacancies for the new project. These vacancies are based in Haripur and Mardan.
All the candidates having Khyber Pakhtunkhwa Domicile can apply for these posts. These positions are contract bases. And the recruitment will be done through ETEA.
KPITB jobs Details of vacant posts:
Administrative Officers
Assistant Directors
Assistant Web Developers
Data Entry Operators
Management trainees
Senior Officers
UI/UX designers
Web Developers
Eligibility for Latest KPK Jobs 2022:
Generally, the candidates possessing a Bachelor's And Master's degree in the same discipline may apply. For further eligibility see the Official Advertisement Attached Below.
How To Apply:
Candidates can visit the ETEA website to apply for these posts. And must have scanned required documents. ETEA website link for apply is here https://etea.edu.pk
Official Advertisement: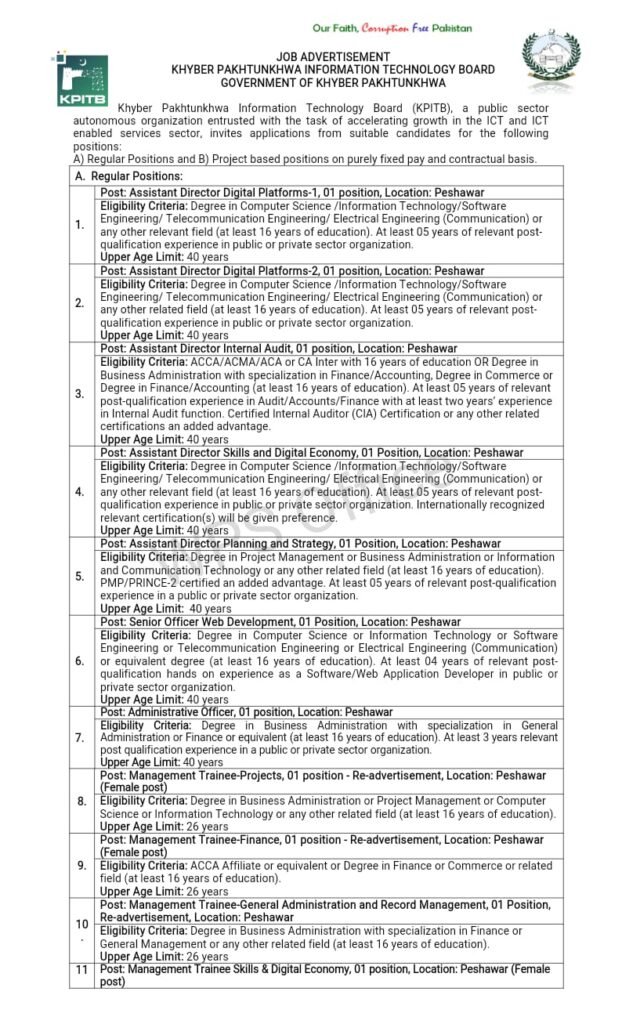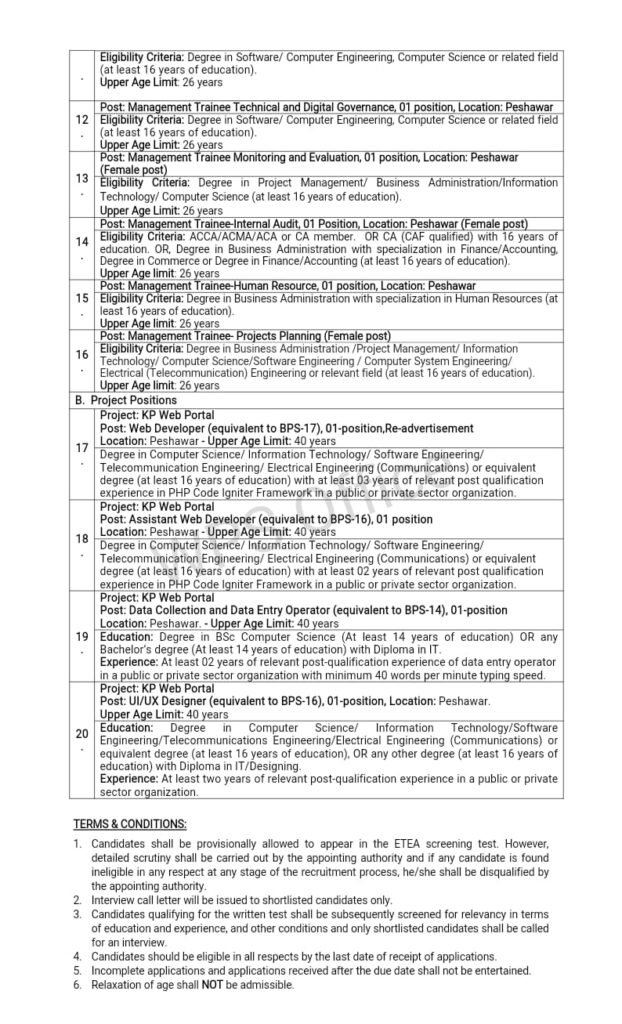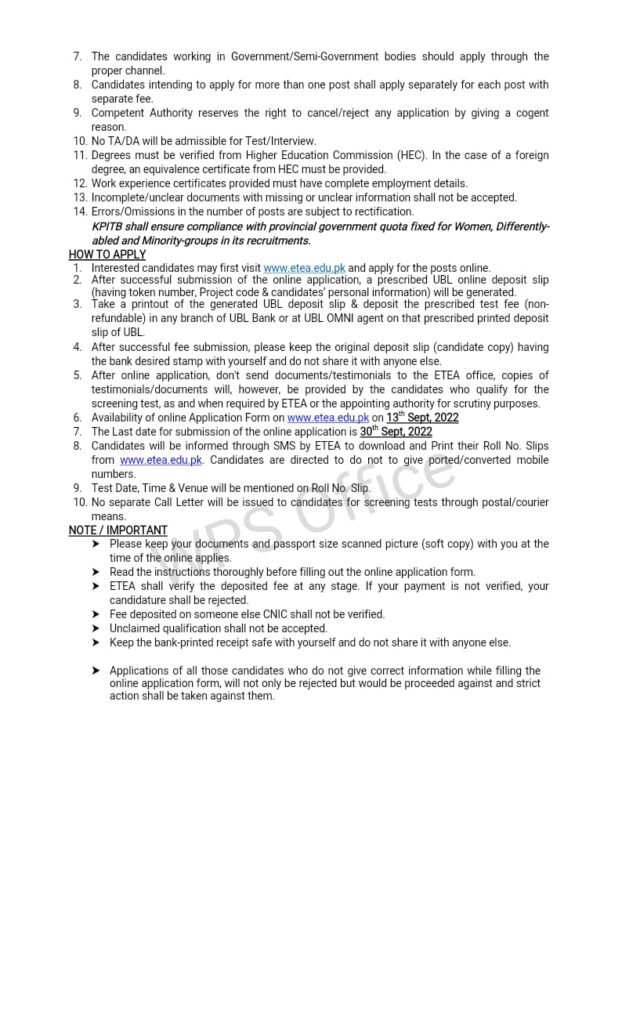 LAST DATE TO APPLY IS 30th September 2022
FPSC jobs advertisement 2022, Latest Jobs
In latest FPSC jobs advertisement 2022, FPSC has announced multiple jobs for both male and females. Candidates can apply from all over Pakistan. Apply procedure is same through the FPSC online apply website.
FPSC jobs details:
These FPSC latest jobs are announced for both male and females. Candidates can check the eligibility criteria from the FPSC jobs advertisement 2022, provided below. And also the apply procedure is online as per described in the FPSC jobs advertisement 2022.
FPSC jobs advertisement 2022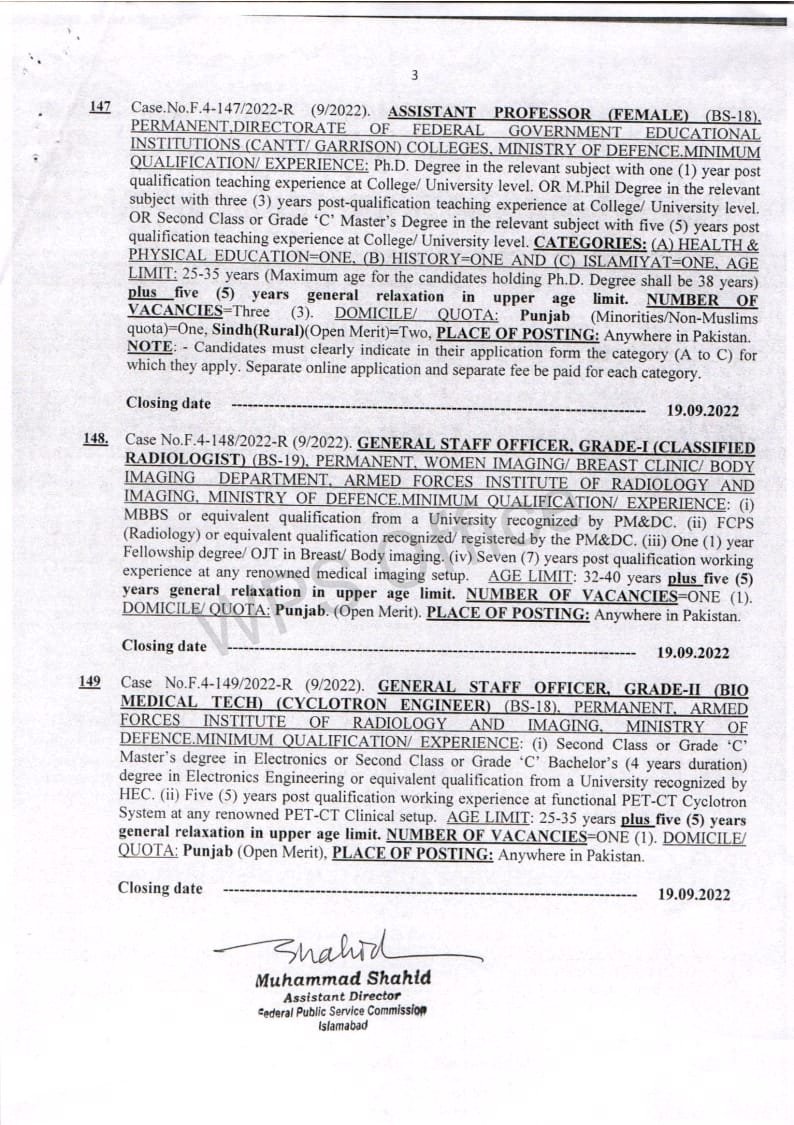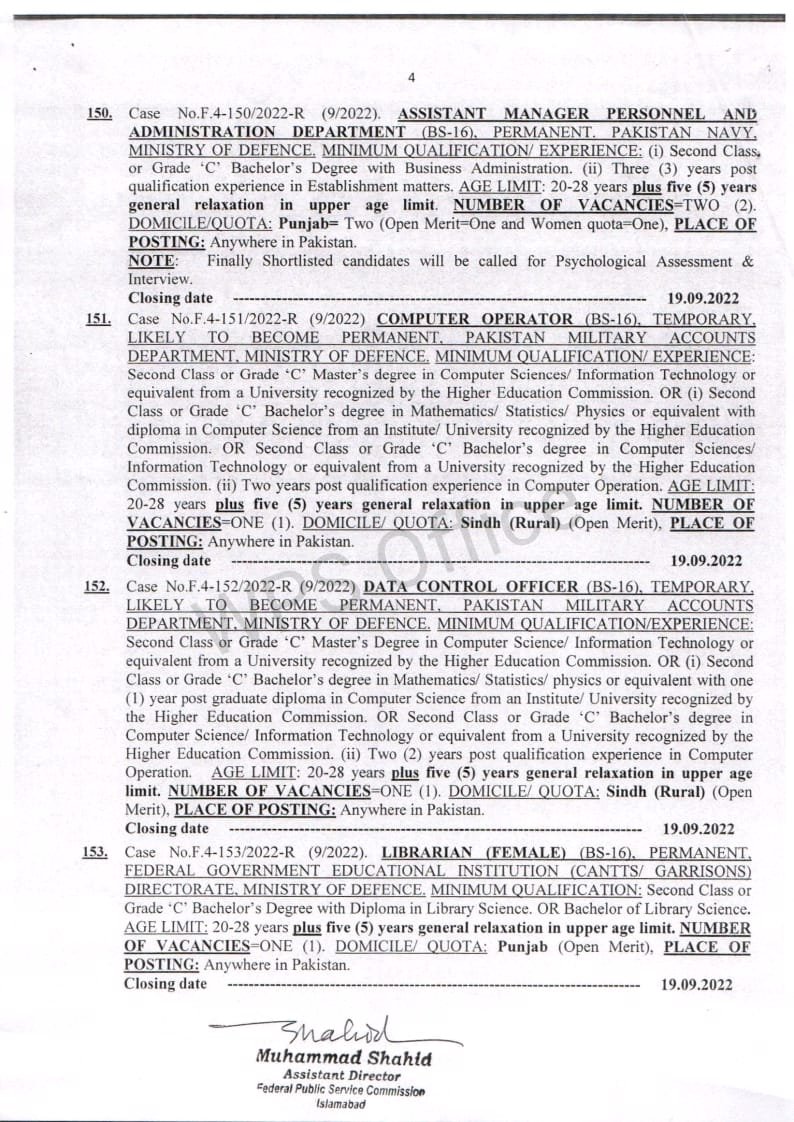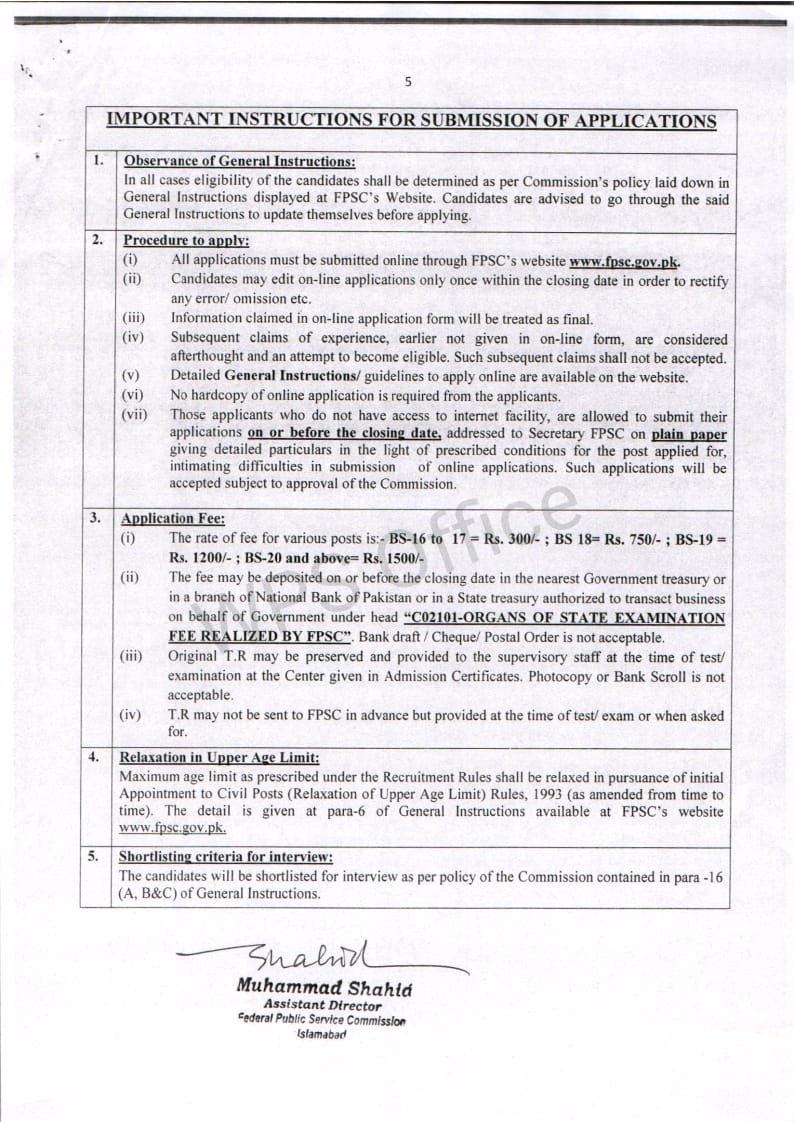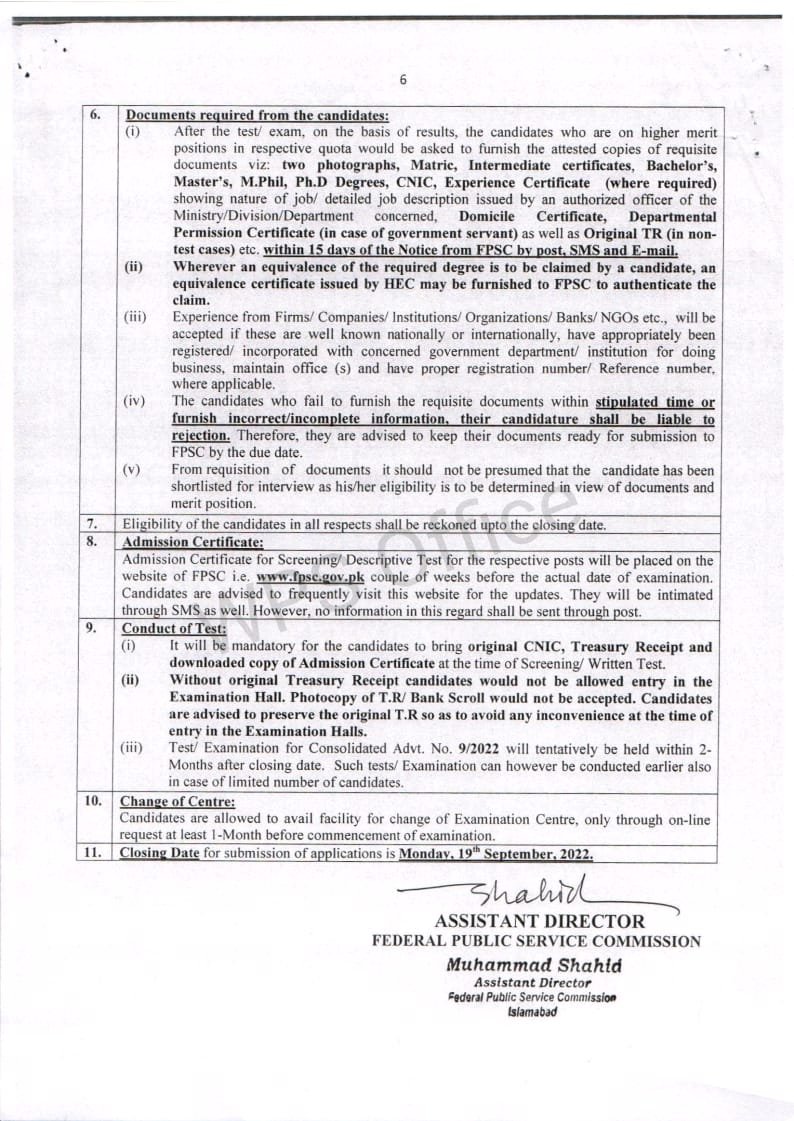 Last date to apply is 26th Septmeber 2022
Also if you want latest merit based Scholarships, CLICK HERE
Latest Jobs KPK, Khyber Teaching Hospital
Latest Jobs KPK announced in Khyber teaching Hospital Medical training Institute.
The details of the latest jobs kpk are given below.
Latest Jobs KPK (KTH) Details:
S.No
Name Of Post
Post Type
Qualification
1.
Experiential registrar
a)General medicine
b) Gastroentrology
c)Neurosurgery
d)Psychiatry
e)General Surgery
Contract
MBBS with FCPS/MRCP
2.
Trainee Registrar
a)General Medicine
b)Ophthalmology
c)Pulmonology
d)Pediatrics Medicine
e)Anesthesia
Contract
MBBS with Post graduate fellowship training
3.
Experiential Registrar
Medical ICU
Contract
MBBS with PMC recognized university
4.
Accident&Emergency
Medical Officer
Contract
MBBS + Training
5.
Respiratory therapist
Contract
BS degree in Respiratory therapy or ICU
6.
Biotechnologist
Contract
MSC Biotechnology
7.
Lab Technician
Contract
Diploma in lab Technology
Official Advertisement + How to apply: