Paid Internship Opportunities at Institute of Management Studies, Peshawar
Applications are invited on plain paper from highly motivated students (both male and female) of MBA/MPA/BBA/BS Computer Science for paid internship opportunities at IMS. The selected students will be placed in the Program, Accounts and IT sections of the institute and their JD will along with other terms and conditions will be shared with them at the time of selection.
Preference will be given to those having documented past work experience voluntary basis or otherwise. Only shortlisted candidates will be invited for interview. The positions are on temporary basis and will last till the availability of funds. This is not a permanent job opportunity, and the institute may discontinue some or all the positions anytime.
The applications along with the copy of CNIC and educational testimonials must reach the office of the undersigned not later than Monday September 5th, 2022, during office hours.
Director
Institute of Management Studies,
University of Peshawar
To apply for latest KPPSC Jobs CLICK HERE
For Ministry Of climate Change jobs Click Here
New Govt Jobs 2022, Apply now
New govt jobs 2022 updates. Many organizations has announced govt jobs 2022 for which you can apply now. Just read the details below.
New govt jobs 2022
KPITB new govt jobs:
Latest govt jobs in Swat Zoo
New govt jobs 2022 in COD rawalpindi
Govt jobs updates in Peshawar
New job openings for Agriculturists
New KPK Jobs, KHYBER PAKHTUNKHWA FOOD SAFETY & HALAL FOOD AUTHORITY

Applications are invited for eligible candidates for new KPK jobs 2022. Khyber Pakhtunkhwa Food Safety and Halal Food Authority has announced new jobs in KPK. These new kpk jobs are purely on contract bases for the period of 2 years. The details of these jobs are given below in the table.
New KPK Jobs details:
S.No
Name of Post
No Of post
Qualification
Age Limit
1.
Laboratory analyst (BPS-16)
Total: 5
Open= 01
Zone 1=01
Zone 2=01
Zone 4=01
Zone 5=01
M.Sc hons or 18 years
equivalent education in
food science and tech
25-35
2.
Driver (BPS-05)
Total= 05
Zone 1=01
Zone 2=01
Zone 3=01
Zone 4=01
Zone 5=01
Matric
LTV Driving License
18-35
Last date for these new KPK jobs is 11 Nov, 2022
The terms and conditions will be given below in the official advertisemnet.
The application procedure will be through ETEA official website.
KPK jobs Advertisement:
Many jobs and scholarships require Nadra family registration certificate, Click here to see how to get it
Govt jobs 2022 in Pakistan, Latest updates
Govt jobs 2022 in Pakistan, Latest updates are given below in the official advertisement.
Last date to apply is 19th Oct 2022. These are health related jobs. Doctors can also apply.
Govt jobs 2022 in Pakistan Advertisement: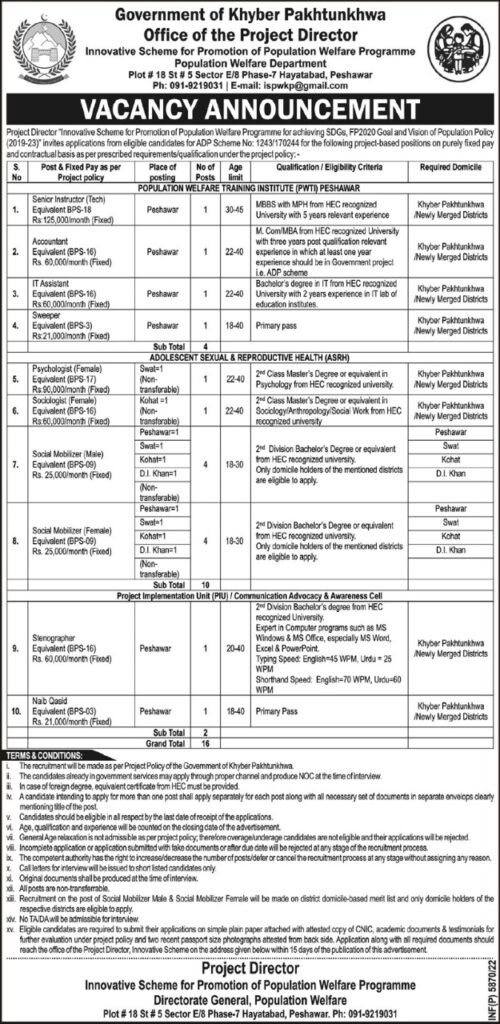 Post required for new govt jobs 2022:
Senior Instructor
Accountant
IT Assistant
Psycologist
Sociologist
Social Mobilizer
Stenographer
Naib Qasid
Sweeper.
Salary:
These are project based jobs and salaries are subjected to Special pay scale and fixed salaries. but there are handsome salaries as compared to other projects.
Final Note:
Proinfodesk is trying it's best to get you to your destination jobs. Specially govt jobs. We give latest updates about every job posted in Govt Deptt as soon as possible.
So please don't forget to like, share and subscribe to the website's push notifications. So that you can not miss any job updates.
Thanks!