EPR registration | Don,t miss any govt job
The Government Of Pakistan has established an online job portal for all citizens. EPR registration phase 2 has started now. The purpose of this online job portal is to provide the candidates with all updates about the jobs. So that they can never miss any job application. The portal is named Employment Processing Resource (EPR).
What is EPR?
EPR Employment Processing Resource is an online job application submission platform. Through which the candidates from all over Pakistan can apply for the job of their interest. The procedure is very simple. First, you have to register yourself on the EPR. Then you have to submit details about your education and degree. EPR will inform you about the latest jobs related to your field of study.
And the best thing about EPR is that you can also apply for any job from EPR. Just you have to submit the application fee and scanned documents required for a job. This was a general introduction to EPR. Now come to the detailed procedure.
EPR Registration:
The registration process is very simple. You can register online on the website. S well as you can register your self via post.
For online registration visit the link
The registration page will open
You have to fill out the form carefully.
Then add your academic details
Enter the job experience if you have any
At the final stage, you have to submit the service fee for EPR registration through easypaisa
In the Easypaisa app Click on the option "corporate short names". Click on EPR and pay the fee.
After successful payment, note the transaction ID and enter this ID on the online form.
After that your account will be active and you will start receiving notifications about the latest govt Jobs.
How to register offline:
For Through post registration, Follow the link to download the form.
Fill out the form carefully
Deposit the EPR fee of Rs.730/- to HBL or Faisal Bank at any branch.
All the required documents should also be attached with the EPR registration form. The documents are as follow
1.Deposit Slip
2. Attested copy of CNIC (front/back)
3. Passport size picture (white background)
4. Domicile (Attested)
5. All educational certificates copies (Attested)
6. Job experience certificates if any.
After registration, the candidate will be notified for every latest job updates. And the good news is that candidates interested in any job can also apply through EPR. Just submit the job application fee and 100Rs service extra charges. And EPR will apply to the Job for you. But on the Job application submission, you would need your educational documents. Which should be uploaded once.
Schedule of Charges for EPR Registration: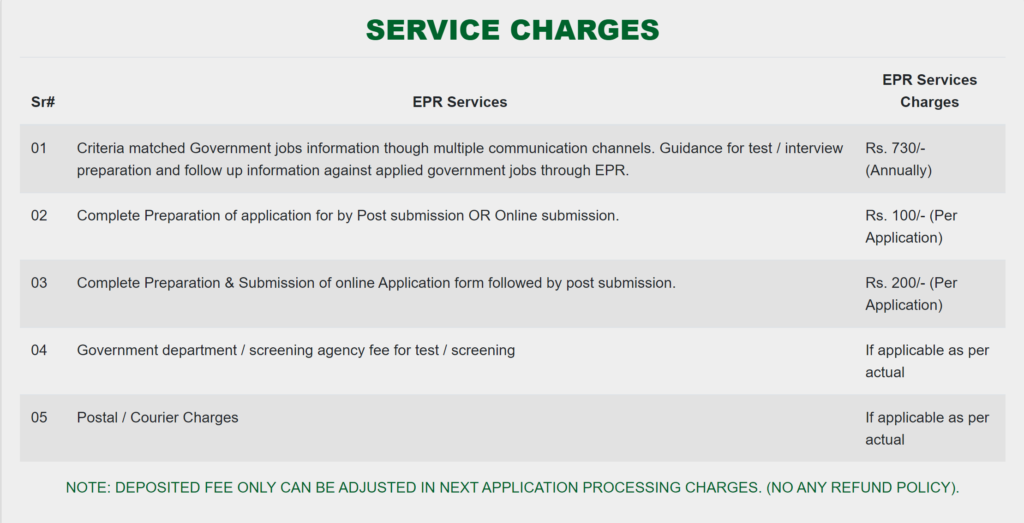 Terms and conditions:
New Govt Jobs 2022, Apply now
New govt jobs 2022 updates. Many organizations has announced govt jobs 2022 for which you can apply now. Just read the details below.
New govt jobs 2022
KPITB new govt jobs:
Latest govt jobs in Swat Zoo
New govt jobs 2022 in COD rawalpindi
Govt jobs updates in Peshawar
New job openings for Agriculturists
New KPK Jobs, KHYBER PAKHTUNKHWA FOOD SAFETY & HALAL FOOD AUTHORITY

Applications are invited for eligible candidates for new KPK jobs 2022. Khyber Pakhtunkhwa Food Safety and Halal Food Authority has announced new jobs in KPK. These new kpk jobs are purely on contract bases for the period of 2 years. The details of these jobs are given below in the table.
New KPK Jobs details:
S.No
Name of Post
No Of post
Qualification
Age Limit
1.
Laboratory analyst (BPS-16)
Total: 5
Open= 01
Zone 1=01
Zone 2=01
Zone 4=01
Zone 5=01
M.Sc hons or 18 years
equivalent education in
food science and tech
25-35
2.
Driver (BPS-05)
Total= 05
Zone 1=01
Zone 2=01
Zone 3=01
Zone 4=01
Zone 5=01
Matric
LTV Driving License
18-35
Last date for these new KPK jobs is 11 Nov, 2022
The terms and conditions will be given below in the official advertisemnet.
The application procedure will be through ETEA official website.
KPK jobs Advertisement:
Many jobs and scholarships require Nadra family registration certificate, Click here to see how to get it
Govt jobs 2022 in Pakistan, Latest updates
Govt jobs 2022 in Pakistan, Latest updates are given below in the official advertisement.
Last date to apply is 19th Oct 2022. These are health related jobs. Doctors can also apply.
Govt jobs 2022 in Pakistan Advertisement: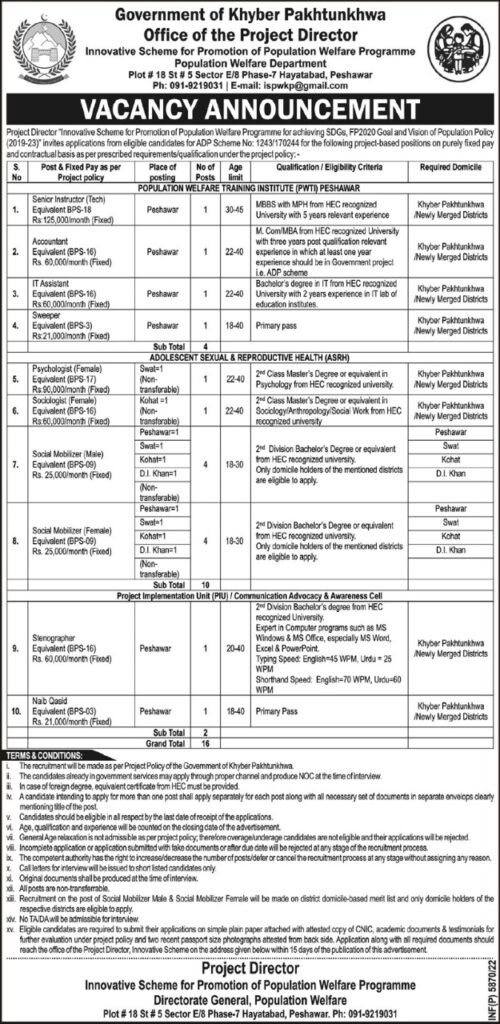 Post required for new govt jobs 2022:
Senior Instructor
Accountant
IT Assistant
Psycologist
Sociologist
Social Mobilizer
Stenographer
Naib Qasid
Sweeper.
Salary:
These are project based jobs and salaries are subjected to Special pay scale and fixed salaries. but there are handsome salaries as compared to other projects.
Final Note:
Proinfodesk is trying it's best to get you to your destination jobs. Specially govt jobs. We give latest updates about every job posted in Govt Deptt as soon as possible.
So please don't forget to like, share and subscribe to the website's push notifications. So that you can not miss any job updates.
Thanks!