How to Protect your Password from PassGAN (AI) Password detector
Protecting your online accounts with strong passwords has become more critical than ever before, as a new study reveals how easily artificial intelligence (AI) can crack commonly used passwords. Now how to protect your password. According to a cybersecurity firm, Home Security Heroes, AI algorithms can crack 51% of common passwords in less than a minute. The study utilized PassGAN, a password generator that uses a Generative Adversarial Network (GAN) to create realistic passwords that users may employ. The GAN is a machine learning model that consists of two neural networks that compete against each other to improve the accuracy of predictions.
The generator produces fake data to trick the discriminator, whose job is to differentiate between real and fake data created by the generator. This becomes a cat-and-mouse game in which both networks benefit from the constant dispute. The generator continually improves to create better fake data, and the discriminator gets better at identifying the real data from the fake.
To train the PassGAN model, Home Security Heroes fed it with 15,680,000 common passwords from the RockYou dataset. This dataset is the result of a 2009 data breach of a widget developer for popular social media platforms such as MySpace and Facebook, resulting in the theft of data from over 32 million users. The dataset has become a popular option for training machine learning password-cracking models. The firm excluded passwords that were shorter than four characters and longer than 18 characters from the experiment.
According to Statista, six out of ten Americans have a password with a length between eight to 11 characters. However, less than one-third of the population utilizes a password with over 12 characters. It is understandable since shorter and simple passwords are easier to remember but more vulnerable to attacks.
PassGAN can crack a seven-character password in less than six minutes, even if it includes numbers, upper and lower case letters, and symbols. However, adding upper-case letters, numbers, and symbols to the mix increases the decryption time by up to five years. Therefore, having a long password with a challenging pattern is essential to make it harder for the AI to solve it quickly.
Home Security Heroes recommends creating a password with at least 15 characters with a strong pattern, combining two upper- and lower-case letters at the minimum with numbers and symbols. PassGAN can figure out a password with eight or nine characters in around seven hours and two weeks, respectively, even if you follow best practices. Passwords with 10 or 11 characters would take the AI approximately five and 365 years to decipher, respectively. A 15-character password, however, takes 14 billion years to decode.
It is vital to change your passwords periodically, preferably between three to six months. Furthermore, avoid using the same password for different accounts.
AI is here to stay, and the hardware that powers AI will improve over time. While AI brings many benefits to our daily lives, nothing prevents bad actors from leveraging it for malicious purposes, such as cracking passwords to steal your data. Therefore, it is crucial to take the necessary precautions to safeguard your online accounts from being hacked.
How to protect your password, tips to create strong passwords:
Create a password with at least 15 characters with a strong pattern, combining two upper- and lower-case letters at the minimum with numbers and symbols.
Avoid using personal information such as birthdates, phone numbers, or names.
Avoid using common words or phrases, as they are easy to guess.
Change your passwords periodically, preferably between three to six months.
Avoid using the same password for different accounts.
Consider using a password manager to create and store complex passwords securely.
Use two-factor authentication whenever possible to add an extra layer of security to your accounts.
How to Buy a used iPhone | Step by Step Guide
Hi Friends! If you are going to market for buying a used iphone, or you have a plan to buy an used iPhone of any series, so you are at right place. In today's blog post we are providing you the key guidelines for buying an used iphone. So let's start.
Here we are providing you some points which you should have in your mind before buying an used iphone. And by applying these, you would probably buy a best used iphone.
1. Physical Overview + buttons:
This is a very general practice of almost all the persons who buy a used iphone. That they always inspect the iphone by its physical appearance. But during this physical inspection, you should have to do the some core things. In which the number one is buttons. Many times people forgot to inspect the volume and power on/off buttons. The buttons should be clicky and relaxable. They should not be sticky.
2. Beware of Tempered glass scam:
Many iphone owners guard their iphones using a sheet or tempered glass. But when you are buiyn that iphone you should have to check it thoroughly. I mean you should remove that sheet or tempered glass to check the original physical condition of that specific iPhone.
3. Sim tray and IMEI number:
The other important thing is sim tray. The IMEI number of the iphone is written on the sim tray. So you should have to verify that imei number to check that the iphone is not refurbished or opened. Specifically if you are buying the used iphone in Pakistan, you can verify that IMEI number on PTA DIRBS official website to make sure it is PTA approved and can be used in Pakistan. And this also show that the sim tray is of this phone and not replaced.
4. Cameras:
The number 4th thing to check when buying an used iPhone is the camera's condition. You should have to make sure that there is no dust in cameras. Many times the dust particles secures a place in front of camera glass. So you should avoid buying such kind of phones as the camera's result would be of low quality or dusty.
5. Display Panel:
The most important thing in my opinion is checking the display panel. The method of checking the display panel is by pressing it from all the four corners of the phone. You should have to make sure that display is not forcing outwards after pressing it. If the display is not setelled down in the phone correctly, it means it is opened or refurbished.
6. Issues regarding previous apple ID:
When you have finalized the decision of buying a used iPhone, so you should have to make sure to logout seller from his own apple ID. And you should make your apple ID and log in on that specific iPhone with your own Apple ID. This check can safe you from buying a bypass Apple iphone. When the seller log out from his ID, make sure to factory reset the iPhone first before logging in with your apple ID.
How to check if iPhone is water packed(sealed) or Not?
Many users have confusion regarding checking the iPhone is water packed or not. So there is a simple method. Just pull out the sim tray from iPhone, and apply the air using your mouth. if the pressure is building, it means it is waterpacked. and if the air is leaking, it means that this iPhone is not water packed.
7. Checking the valid purchase date:
By checking the valid purchase date you should go to settings and the general. The go to about in iPhone general settings and copy the serial number. Then open the web browser and type Apple coverage. Then open the firs site appeared in search results (official Apple Site). Follow the procedure and paste the Copied serial number on this site. It will tell the valid purchase date of iPhone. This test is to make you safe from buying the converted iPhones. In the market, there are many iPhones which are converted from old model to new ones. So do not buy these phones.
8. How to check that iPhone battery health is original or boosted?
So friends, this is the most demanding question that how to check that The battery health of iPhone is original or artificially boosted? So there is not a specific method but we can guide you for some tools that can help to detect the original battery health of an iPhone. First of all presenting you the homemade method. And that is that burst mode. Firstly check the battery health before performing this test. Open the camera, in burst mode, hold the capturing button for about 10-15 seconds. Now again check the battery health. Usually during this test, battery health of a used iPhone falls 1-2%. but if this fall becomes more than this then it means there is a faulty battery or a boosted battery health.
The next method is checking by using 3u Tools. This is a tool which gives you complete information regarding your iPhone. But here we are concerned with the battery health checking. To check the original battery health you should have to compare two stats. One is battery health and other is Charging cycles. If there is a lot of difference between battery health and charging cycles, it means there is some problem. For example if battery health is more than 95 in 70 charging cycles or 100 charging cycles, it is good. But if there are showing more than 1000 charging cycles and battery health is still more than 95% so this is a boosted battery health.
9. Use Phone doctor plus app to safe time:
When you are in the market so you do not have much time to check each and every thing. But it is necessary to check these things. For this, just download the app Phone doctor plus from the app store and it will check the each function of the phone for you.
10. Display change but Genuine apple part: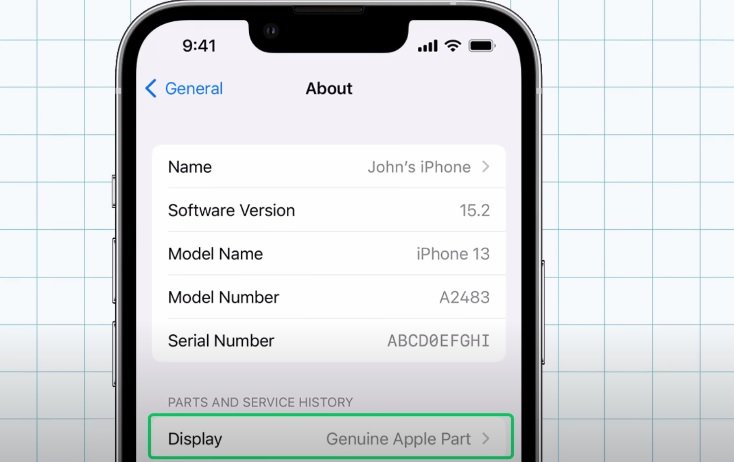 Now a days, Genuine apple part display iPhones are in a large variety in the markets. So our opinion is that if there is a certified Genuine apple part written in the Parts and service history, so nothing wrong with it. Because it means that display is changed but the part is imported from official apple Company. But if There is written an unknown part, then miss out that phone because the display is not genuine. To check this, go to general settings in iPhone and the go to About section. Scroll below and click Parts and service history. You can Find this information here.
See more about iPhone 15 back glass failure here
So dear readers that was our 10 points strategy to buy an used iPhone. We hope this will add value to your life and iphone journey. Please follow our website for more these types of guides and walkthroughs and do not forget to share with you friends. Thanks!
Google is going to end Gmail's beloved feature
Technology giant Google is going to end beloved feature of Gmail.
Gmail users who use the website's HTML Basic View feature will no longer have this feature available from January 2024.
According to a notice in the company's support patch, Gmail will only be available in Standard View from that date.
HTML BasicView is originally a 2007 design by Gmail that users often use over slow Wi-Fi. Standard view features such as chat box, spell check or contact importing are not loaded on this mode.
However, Pratik Patel, an expert in blind technology, warns that the feature being retired is a major setback for blind and partially sighted people.
He said that many blind people who use this mode of Gmail will not only be confused but also unhappy.
HTMLView makes the screen much easier for blind people to use. The standard interface is now available for use by the blind, but many people are left with the basic HTML version because that's what they know how to use.
Pratik Patel added that it is not that standard interfaces are not available. But some people will not be ready to use this mode.
Meet RT-2: The AI System That Can Teach Robots New Tricks
Imagine a cutting-edge AI system that can teach robots to do things they were never specifically trained for. Well, that's precisely what Google DeepMind has achieved with their new creation called RT-2. This groundbreaking model learns from both web-based data and information gathered from real-world robotics experiences, enabling it to give simple yet effective instructions to robots.
Testing Phase of RT-2:
In the testing phase, RT-2 was challenged with tasks that were completely new to it, not part of its initial training. For example, it was asked to arrange oranges in a matching bowl, something it had never done before. To tackle these unfamiliar tasks, RT-2 tapped into the vast knowledge it had accumulated from the web data it learned. And impressively, it succeeded in completing these actions with a 62% success rate – that's twice as good as its predecessor, RT-1.
Ability to work on New Commands:
But what makes RT-2 truly remarkable is its ability to adapt and think on its feet. It can figure out new commands and respond effectively, even when those tasks were never part of its training data. For instance, when asked to find an object that could serve as a hammer, RT-2 astutely identified a rock as the most suitable option.
Moreover, RT-2's cognitive prowess goes beyond single-step problem-solving. It can reason through multiple stages, devising clever solutions to complex challenges. In one test, it ingeniously concluded that a rock would make a perfect makeshift hammer, displaying a level of reasoning similar to how humans would approach the problem. Another time, when commanded to push a bottle of ketchup towards a blue cube, RT-2 achieved the objective, despite having no prior knowledge of any objects except the cube.
This breakthrough by Google DeepMind signifies a major leap forward in the realms of artificial intelligence and robotics. RT-2's capability to learn from web data and apply that knowledge to real-life tasks opens up exciting possibilities for the future of robotics. As the technology continues to evolve, we could witness the emergence of versatile and helpful robots that can seamlessly integrate into various human-centered environments. While there's still much work to be done, RT-2 offers a tantalizing glimpse of what's to come in the fascinating world of robotics.
Some Questions You may want to Know About RT-2:
1. What is RT-2?
RT-2 is an advanced AI model developed by Google DeepMind for robotics. It can teach robots to perform tasks beyond its initial training data, thanks to its ability to learn from web data and apply that knowledge to real-world scenarios.
2. How does RT-2 learn to perform new tasks?
RT-2 learns from a combination of web-based data and information collected from real-world robotics experiences. It uses this diverse knowledge to give robots simple instructions for performing various tasks.
3. What is the success rate of RT-2 in performing new tasks?
In tests, RT-2 achieved a 62% success rate in carrying out tasks that were not part of its initial robotic training data. This is twice as successful as its predecessor, RT-1.
4. Can RT-2 understand and communicate with robots?
Yes, RT-2 can effectively communicate with robots by providing them with clear and actionable instructions. It can direct robots to carry out tasks that it was not explicitly trained for.
5. Does RT-2 demonstrate reasoning capabilities?
Absolutely! RT-2 showcases remarkable reasoning capabilities, allowing it to figure out new user commands and tasks that were not present in its initial training data. It can even perform multi-stage semantic reasoning to solve complex challenges.
6. How does RT-2 adapt to new situations?
RT-2's adaptability comes from its ability to draw upon the diverse knowledge it acquired from web-based data. It can translate this knowledge into useful instructions, enabling it to tackle new and unfamiliar tasks effectively.
7. What is DeepMind's view on RT-2's impact on robotics?
Google DeepMind sees RT-2 as a significant breakthrough in artificial intelligence and robotics. They believe it brings us closer to a future of helpful and more general-purpose robots that can operate in various human-centered environments.
8. How can RT-2 enhance interactions with robots?
RT-2's ability to teach robots new tasks and communicate effectively with them can significantly enhance human-robot interactions. It opens up possibilities for robots to be more adaptable and helpful in diverse situations.
9. What future possibilities does RT-2 present for robotics?
RT-2's success in learning from web data and applying that knowledge to real-world tasks offers exciting possibilities for the future of robotics. As the technology advances, we could see robots becoming more versatile, capable, and seamlessly integrated into our daily lives. The potential for helpful robots in various human-centered environments is just within reach.