Latest ISI Jobs 2022, Apply Now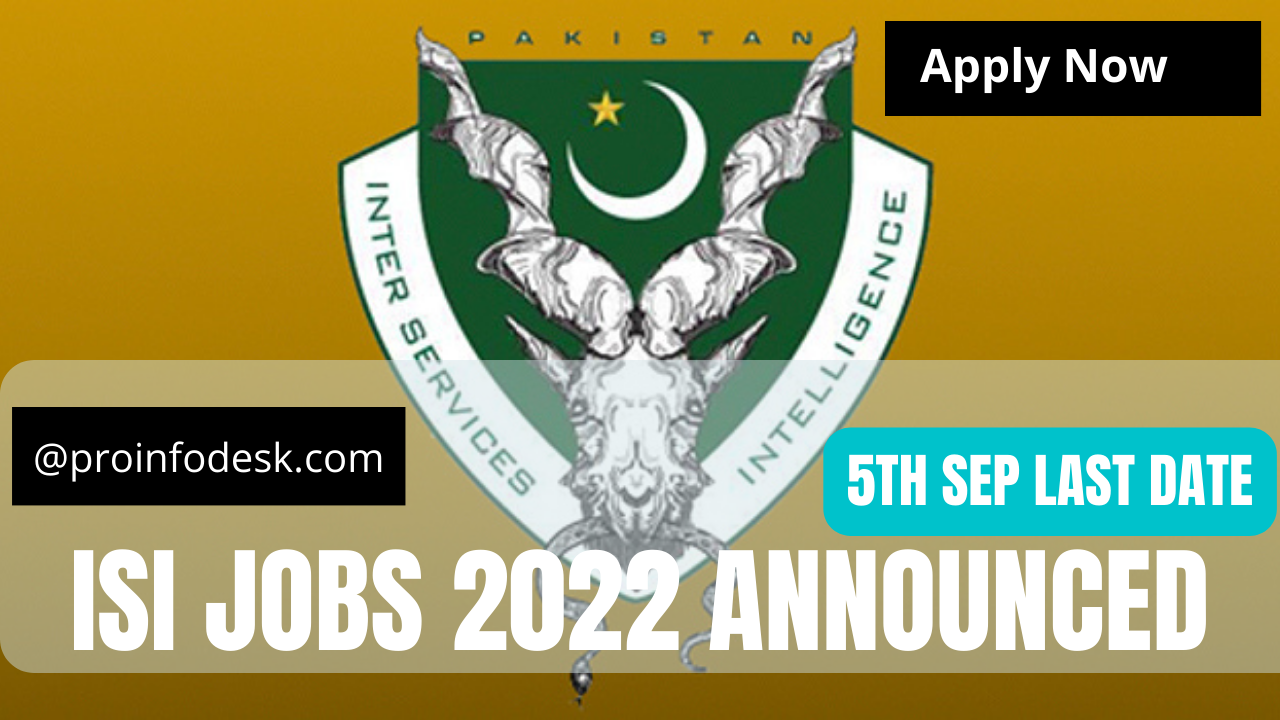 ISI jobs 2022, ISI Inter-Services Intelligence has finally announced multiple job vacancies in Pakistan. Both males and females can apply for these jobs. About more than 340 vacancies are being announced by the Ministry of Defence for ISI.
ISI jobs 2022 Positions:
Assistant Director (BS-17)
Traffic Analyst Supervisor (BS-16)
Sub Divisional Officer (B&R) (BS-16)
Charge Nurse (BS-16)
Assistant (BS-15)
Sub Inspector (BS-14)
Security Sub Inspector (BS-14)
Traffic Analyst (BS-14)
Sub Engineer-II (BS-14)
Sub Divisional Officer (E&M) (BS-14)
Technician (BS-14)
Upper Division Clerk (BS-11)
Supervisor (BS-11)
Sub Engineer-I (BS-11)
Draughtsman (BS-11)
Security Assistant Sub Inspector (BS-9)
Lower Division Clerk (BS-9)
Operator Special (BS-9)
Technical Monitoring Staff (BS-09)
Security Supervisor (BS-7)
Lady Receptionist (BS-7)
Site Supervisor (BS-7)
Wireman (Bs-6)
Special Staff (Bs-5)
Driver (Bs-4)
Naib Qasid (Bs-1)
Laskar (Bs-1)
Mali (Bs-1)
Cock (Bs-1)
Mess Waiter (Bs-1)
Sanitary Worker (Bs-1)
| | |
| --- | --- |
| Department | ISI |
| Age limit | 18-35 years |
| Education | Primary- Graduation |
| Apply procedure | Online |
| Job Type | Permanent |
| Last date | September 5th, 2022 |
Important Note:
Candidate must possess educational qualications and must be within age limits mentioned in the advertisement with effect from the closing date of receipt of applications i.e 5 September 2022 (Monday).
The maximum age limit may be relaxed to the extent as mentioned below however, where a candidate is entitled to age
relaxation under more than one categories, he/she shall be allowed age relaxation only in one category:-
(a) By 3 years in the case of candidates belonging to Scheduled Castes, Buddhist Community, recognized tribes of the
Tribal Areas, AJ&K and Northern Areas (Gilgit Baltistan).
(b) By 3 years in case of candidates belonging to Sindh (Rural) and Baluchistan for posts in BS-15 and below.
(c) By 10 years (upto the age of 55 years) in case of government servants who have completed 2 years continuous government service on the closing date for receipt of applications.
(d) In case of released or retired ofcers/personnel of the Armed Forces of Pakistan, by 15 years or the number of years actually served in the
Armed Forces of Pakistan, whichever is less.
(e) By 5 years in case of widows / widowers, son or daughter of a deceased civil servant who died during service.
(f) By 10 years in case of disable persons for appointment to posts in BS-15 and below.
THE QUOTA RESERVED FOR WOMEN, MINORITIES AND DISABLES WILL BE ADHERED TO ACCORDING TO THE GOVERNMENT'S
INSTRUCTIONS. Persons with disabilities can apply for all posts however, they are encouraged to apply against posts at Ser No. 2, 5, 8,
12, 17,18 & 21.
Negative marking will apply in Screening Test @ 0.25 mark per for each wrong answer.
No TA/DA will be admissible to candidates for appearing in tests / interviews
How to apply for ISI jobs 2022
ONLINE APPLICATION FORMS and online application fee deposit slips are available on website:www.recruitments.com.pk. Hard copy submission of Application Forms is "Not Required".
Application fee payable by candidate is Rs. 1400/- for Posts in BS-17 and Rs. 850/- for posts in BS-7 to BS-16 and Rs. 500 for posts in BS-1 to
BS-6.Fee can be paid through 1 bill invoice from all participating banks /ATMs/Internet Banking/Easy Paisa/Jazz Cash/UPaisa/TCS express
counters using 20 Digits invoice number generated in your fee slip. Only 1 bill invoice payment will be expected. Deposited Fee is nonrefundable/ non-transferable therefore, candidates must ensure eligibility before applying for any post. Deposit Slips will be generated through website
till 1400 Hours of Last Date of Apply. To avoid inconvenience / rush, candidates are advised for early submission of application fee.
BY PAYING SINGLE FEE, A CANDIDATE MAY APPLY FOR TWO POSTS of any group of posts at Sr # 2,8,19 or Sr # 6,7,16 or Sr # 11,13,14
or Sr # 12,17,18,21 subject to eligibility. To apply for more posts, extra fee will be payable and so on. DISABLE CANDIDATES ARE ENTITLED
FOR FEE EXEMPTION subject to provision of Disability Certicates from relevant Government Departments.
Test / result intimation slips shall not be sent through postal / courier services. CANDIDATES ARE ADVISED TO visit website (www.recruitments.com.pk) on alternate / daily basis and KEEP THEIR CELL NUMBERS OPERATIONAL, for tests / results intimations.
Furnishing correct personal details, sending documents (whenever required) and adherence to the timelines is sole responsibility of candidates. All these aspects are part of eligibility determination and reflect upon seriousness and competence of candidates.
For any queries about ISI jobs 2022, contact Phone No. 051-8905000 of MoD.
ISI jobs 2022 official Advertisement:

KPITB Latest KPK Jobs 2022
Latest KPK Jobs 2022 updates. KPK IT board (KPITB) has announced various vacancies for the new project. These vacancies are based in Haripur and Mardan.
All the candidates having Khyber Pakhtunkhwa Domicile can apply for these posts. These positions are contract bases. And the recruitment will be done through ETEA.
KPITB jobs Details of vacant posts:
Administrative Officers
Assistant Directors
Assistant Web Developers
Data Entry Operators
Management trainees
Senior Officers
UI/UX designers
Web Developers
Eligibility for Latest KPK Jobs 2022:
Generally, the candidates possessing a Bachelor's And Master's degree in the same discipline may apply. For further eligibility see the Official Advertisement Attached Below.
How To Apply:
Candidates can visit the ETEA website to apply for these posts. And must have scanned required documents. ETEA website link for apply is here https://etea.edu.pk
Official Advertisement: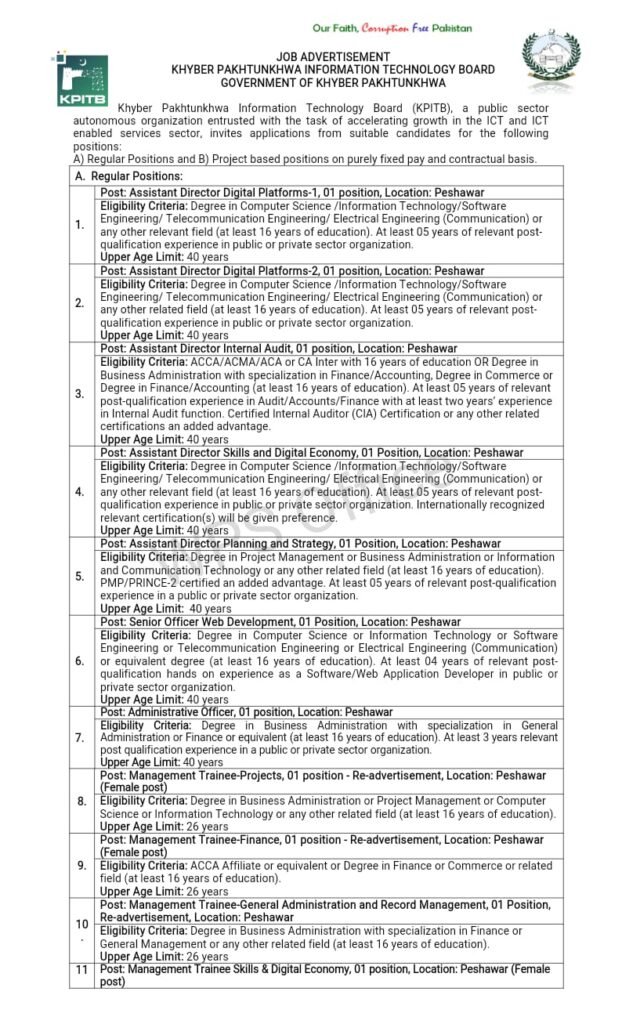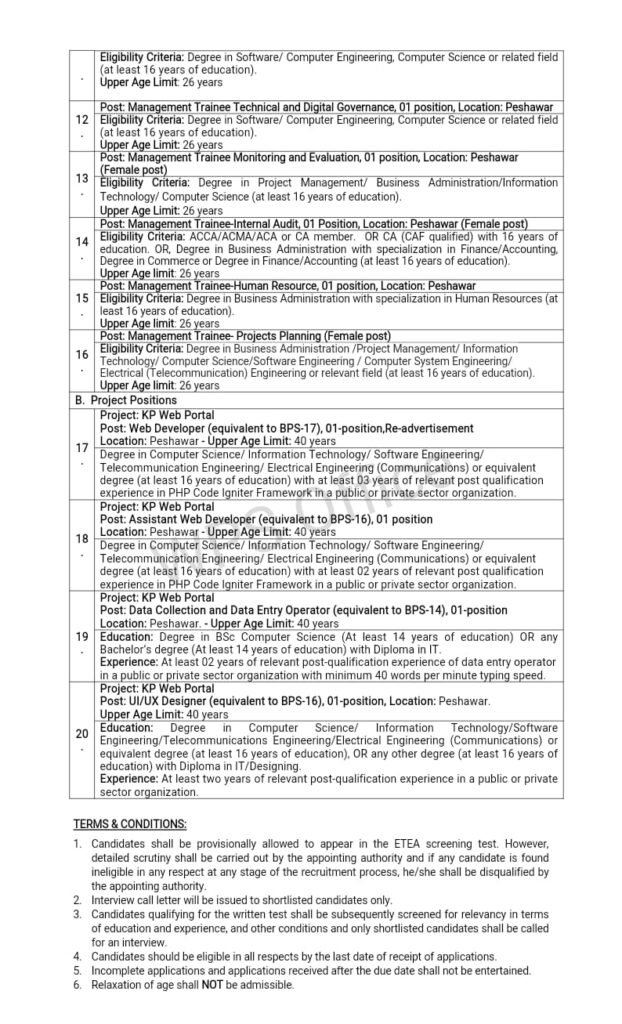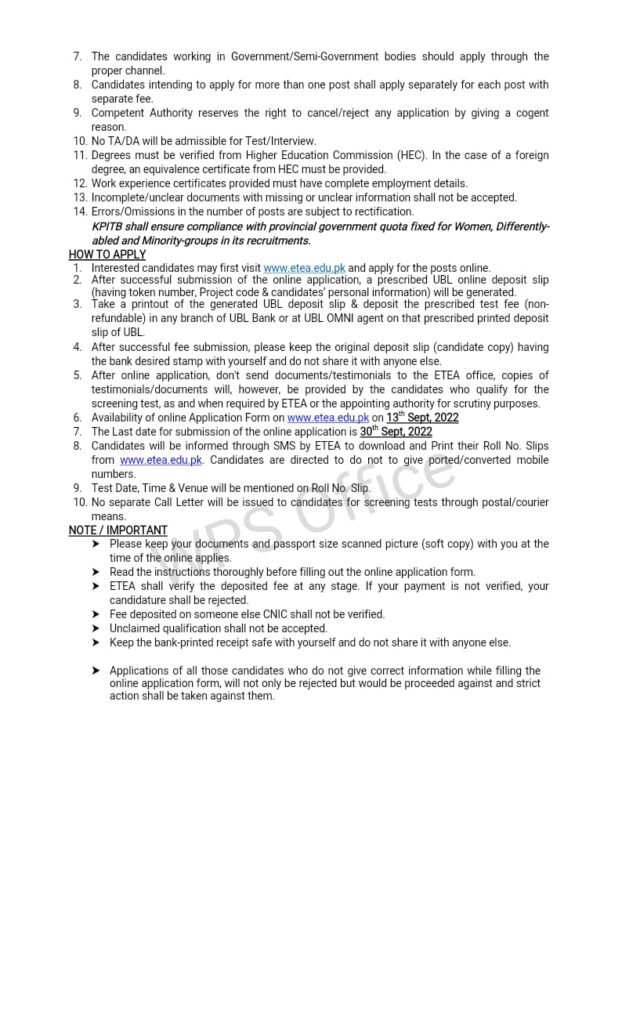 LAST DATE TO APPLY IS 30th September 2022
FPSC jobs advertisement 2022, Latest Jobs
In latest FPSC jobs advertisement 2022, FPSC has announced multiple jobs for both male and females. Candidates can apply from all over Pakistan. Apply procedure is same through the FPSC online apply website.
FPSC jobs details:
These FPSC latest jobs are announced for both male and females. Candidates can check the eligibility criteria from the FPSC jobs advertisement 2022, provided below. And also the apply procedure is online as per described in the FPSC jobs advertisement 2022.
FPSC jobs advertisement 2022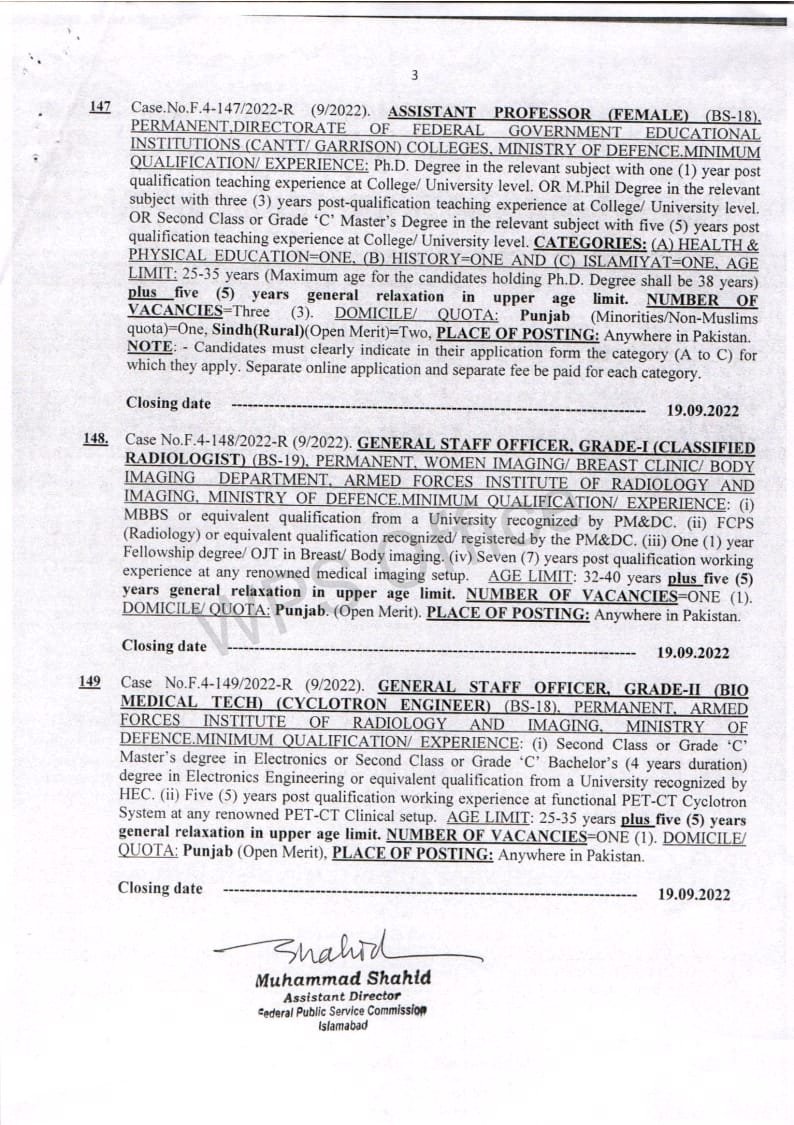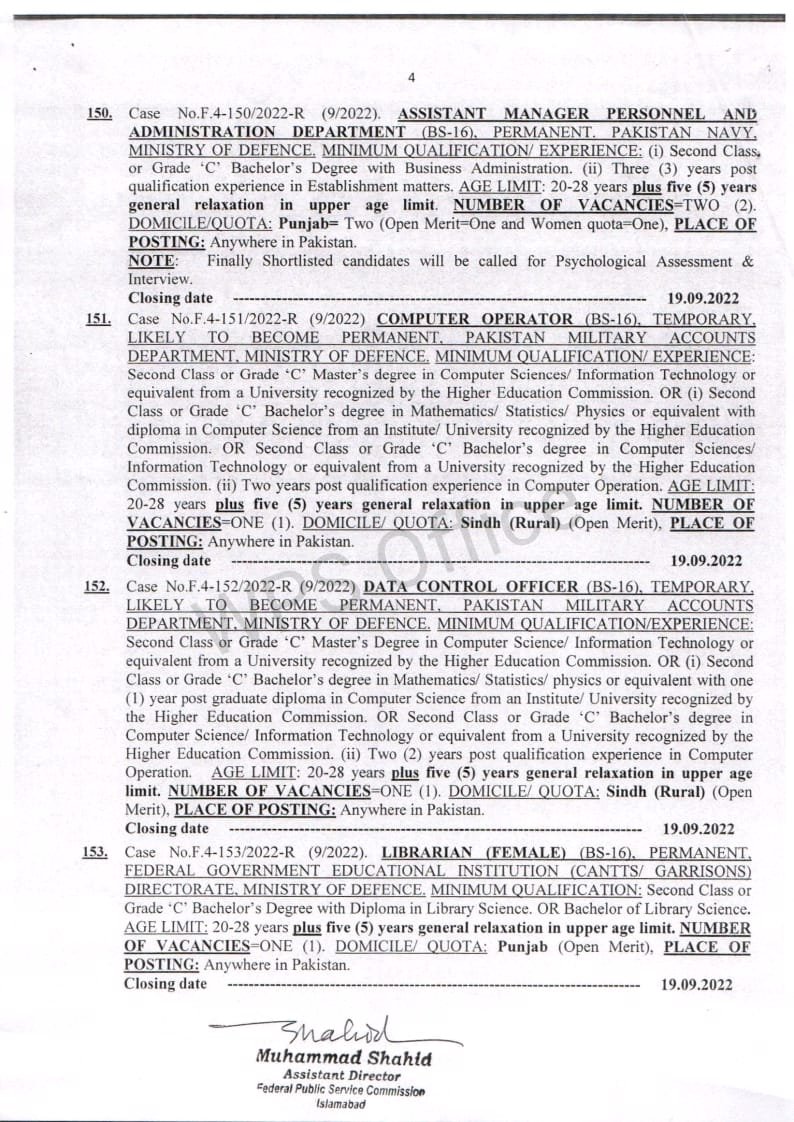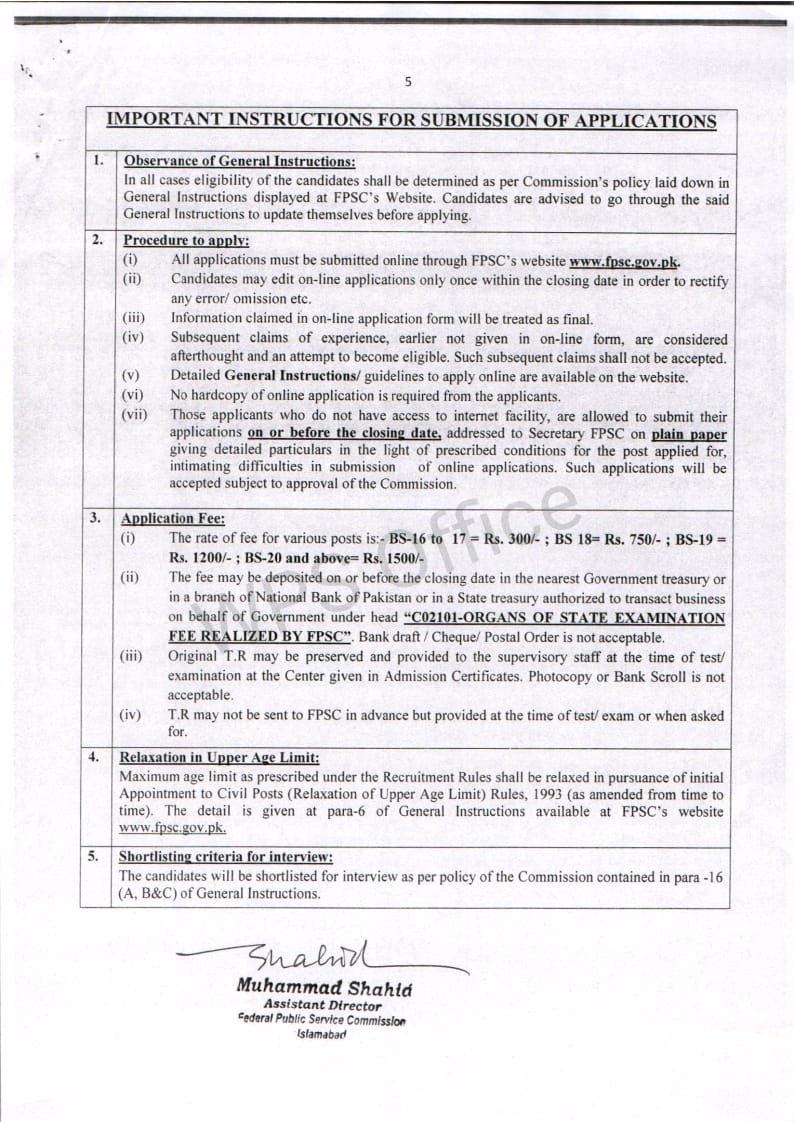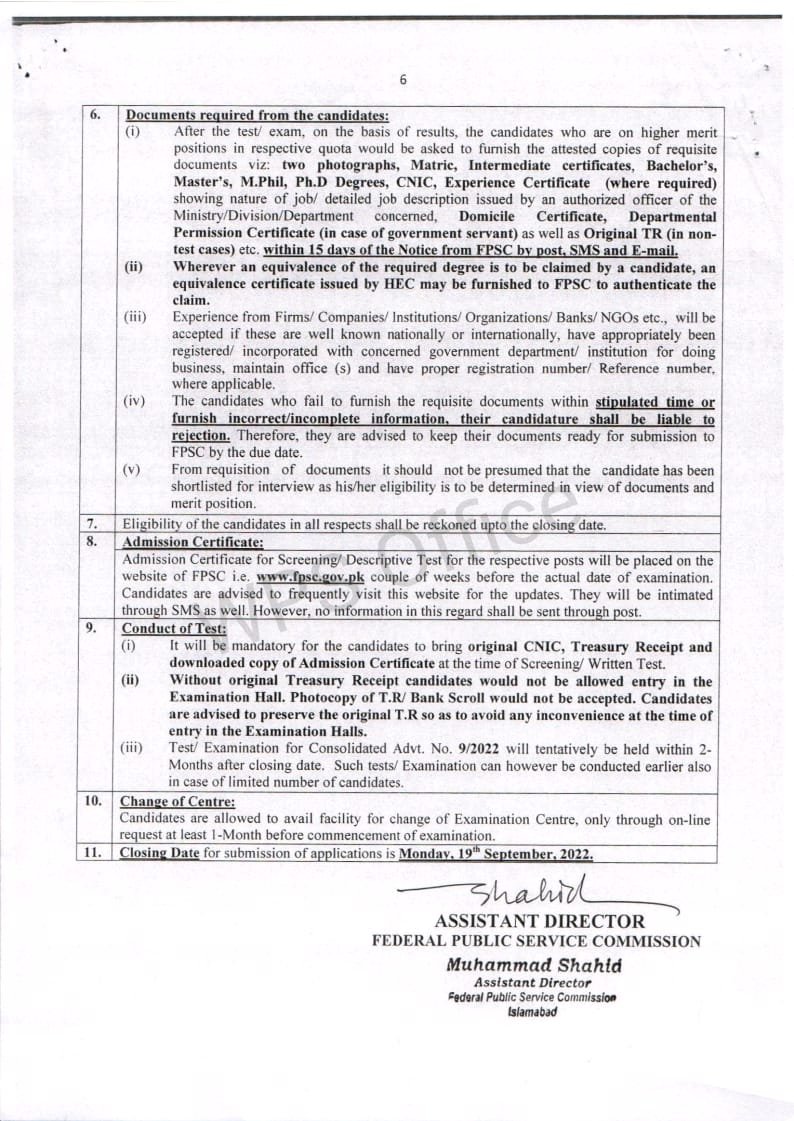 Last date to apply is 26th Septmeber 2022
Also if you want latest merit based Scholarships, CLICK HERE
Latest Jobs KPK, Khyber Teaching Hospital
Latest Jobs KPK announced in Khyber teaching Hospital Medical training Institute.
The details of the latest jobs kpk are given below.
Latest Jobs KPK (KTH) Details:
S.No
Name Of Post
Post Type
Qualification
1.
Experiential registrar
a)General medicine
b) Gastroentrology
c)Neurosurgery
d)Psychiatry
e)General Surgery
Contract
MBBS with FCPS/MRCP
2.
Trainee Registrar
a)General Medicine
b)Ophthalmology
c)Pulmonology
d)Pediatrics Medicine
e)Anesthesia
Contract
MBBS with Post graduate fellowship training
3.
Experiential Registrar
Medical ICU
Contract
MBBS with PMC recognized university
4.
Accident&Emergency
Medical Officer
Contract
MBBS + Training
5.
Respiratory therapist
Contract
BS degree in Respiratory therapy or ICU
6.
Biotechnologist
Contract
MSC Biotechnology
7.
Lab Technician
Contract
Diploma in lab Technology
Official Advertisement + How to apply: