Islamia College Peshawar Teaching Jobs 2022
The goal of Islamia College Peshawar is to create a pool of highly trained and driven teachers who would work there on a temporary basis. The involved teaching departments will host screening tests, demonstrations, and interviews for this purpose, in accordance with the schedule posted on the website www.icp.du.pk.
Candidates may apply for ICUP Teaching positions if they have a Master's degree or 16 years of comparable experience in the relevant subjects. The application, CNIC, CV, proof of residence, and experience certificate can all be submitted on plain paper. August 19, 2022, is the last day to submit applications for teaching positions at Islamia College.
Islamia College Peshawar Teaching Jobs Details
Islamia Collegiate School (Biology, Chemistry, Computer Science, English, Pakistan Studies)
English
Physics
Geography
Islamic Theology
Arabic
Botany
Political Science
Psychology
Chemsitry
Management Sciences
Shariah & Law
Computer Science
Mathematics
Sociology
Economics
Statistics
Education
Pakistan Studies
Urdu
Electronics
Pashto
Zoology
Eligibility Criteria
Candidates having Masters or equivalent degrees (16 Years of education) in the relevant field from HEC recognized Universities/ DAIS with no 3rd division in the academic career are eligible to apply on plain paper.
However, candidates having MS/M.Phil Ph.D. degree in the relevant field from HEC recognized universities/ DAls will be preferred.
How to Apply
Candidates must pay a nonrefundable application processing fee of Rs. 1000 to Islamia College Peshawar's Treasurer in MCA No. 231098405, Code No. 54. ( at any UBL branch).
Applications that are not complete or are submitted after the deadline won't be considered.
On or before Friday, August 19, 2022, all academic credentials, a resume, a CNIC, proof of residence, a photograph, and any experience certificates that apply must be delivered to the office of the concerned department's chairman.
KPITB Latest KPK Jobs 2022
Latest KPK Jobs 2022 updates. KPK IT board (KPITB) has announced various vacancies for the new project. These vacancies are based in Haripur and Mardan.
All the candidates having Khyber Pakhtunkhwa Domicile can apply for these posts. These positions are contract bases. And the recruitment will be done through ETEA.
KPITB jobs Details of vacant posts:
Administrative Officers
Assistant Directors
Assistant Web Developers
Data Entry Operators
Management trainees
Senior Officers
UI/UX designers
Web Developers
Eligibility for Latest KPK Jobs 2022:
Generally, the candidates possessing a Bachelor's And Master's degree in the same discipline may apply. For further eligibility see the Official Advertisement Attached Below.
How To Apply:
Candidates can visit the ETEA website to apply for these posts. And must have scanned required documents. ETEA website link for apply is here https://etea.edu.pk
Official Advertisement: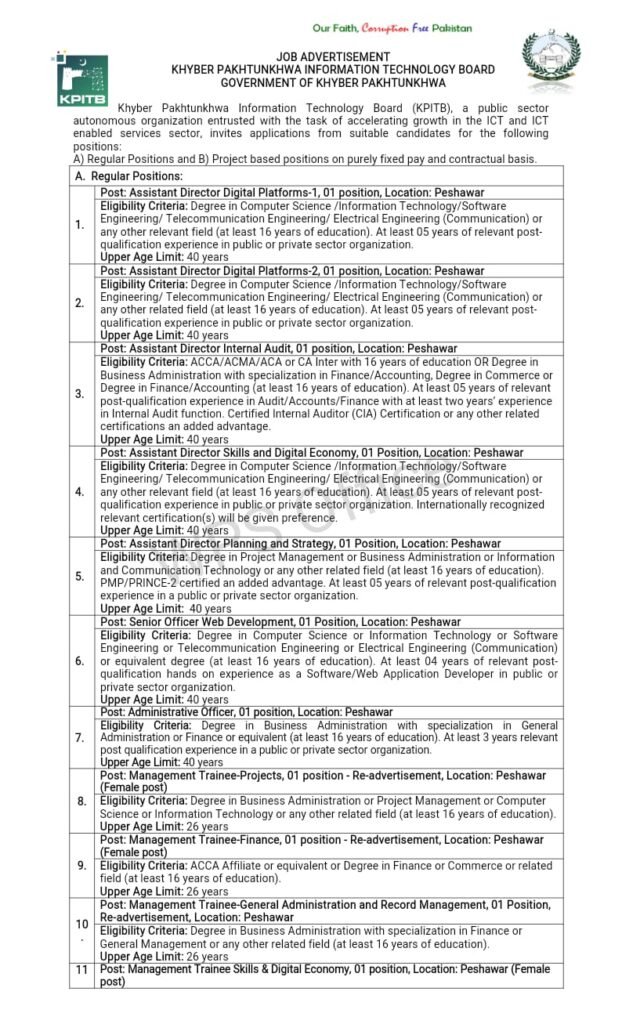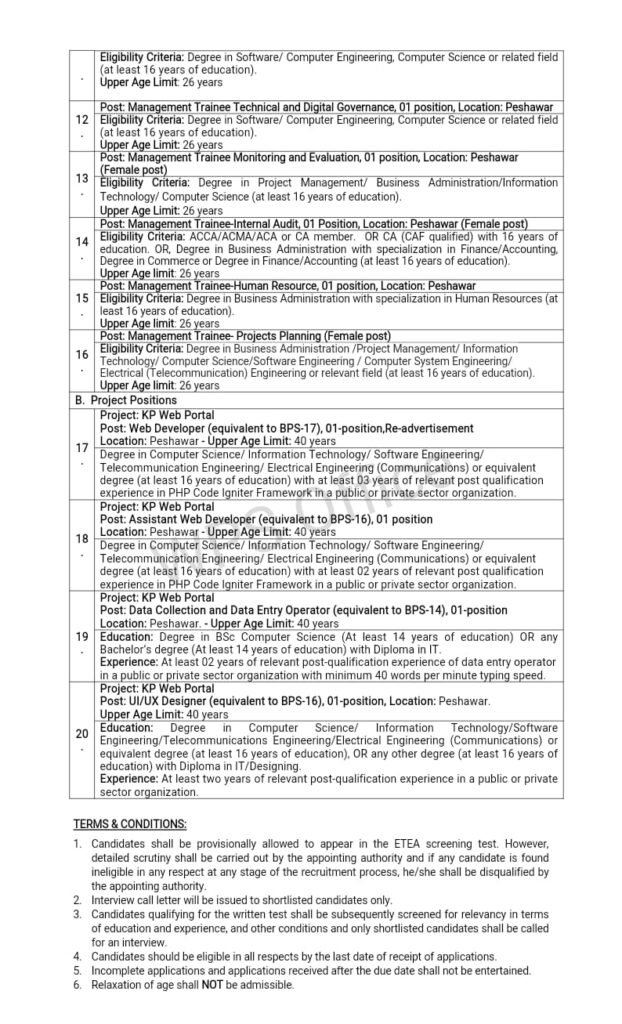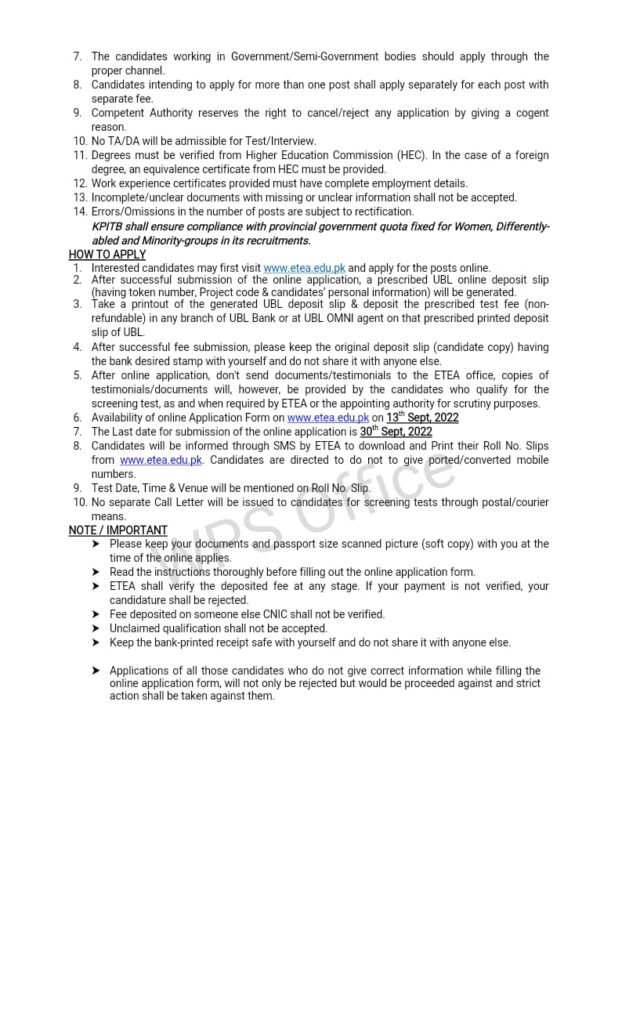 LAST DATE TO APPLY IS 30th September 2022
FPSC jobs advertisement 2022, Latest Jobs
In latest FPSC jobs advertisement 2022, FPSC has announced multiple jobs for both male and females. Candidates can apply from all over Pakistan. Apply procedure is same through the FPSC online apply website.
FPSC jobs details:
These FPSC latest jobs are announced for both male and females. Candidates can check the eligibility criteria from the FPSC jobs advertisement 2022, provided below. And also the apply procedure is online as per described in the FPSC jobs advertisement 2022.
FPSC jobs advertisement 2022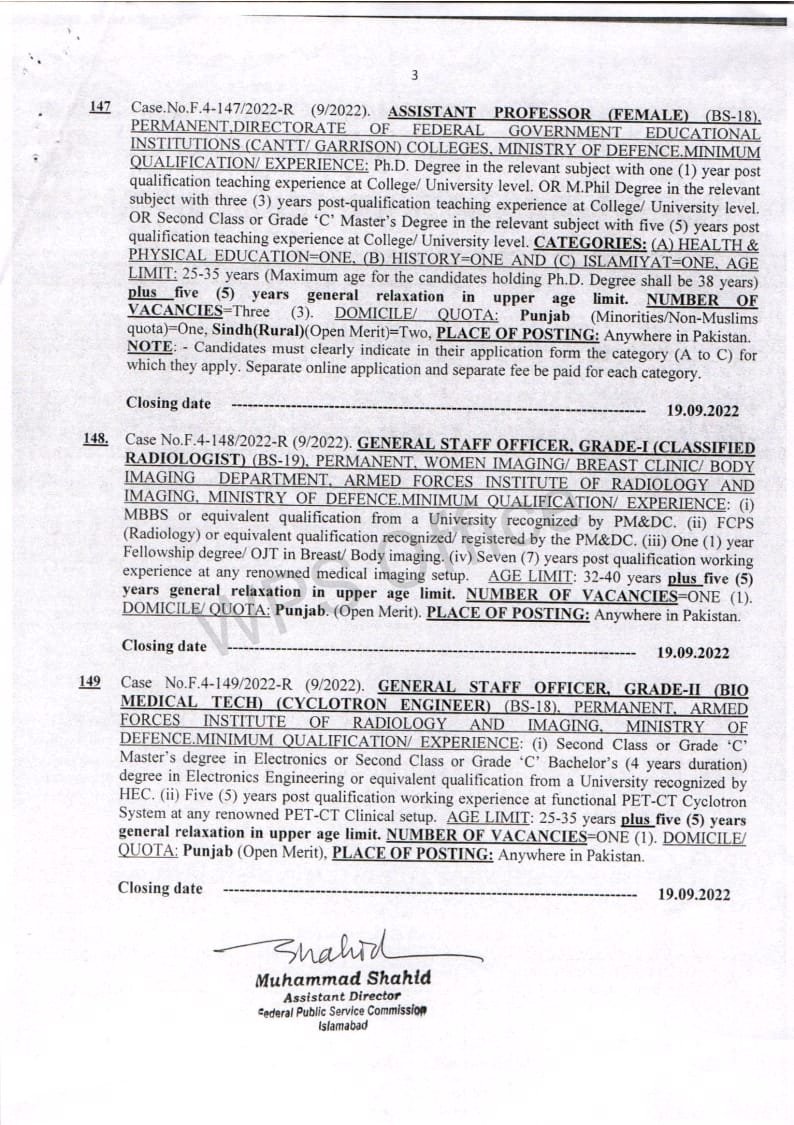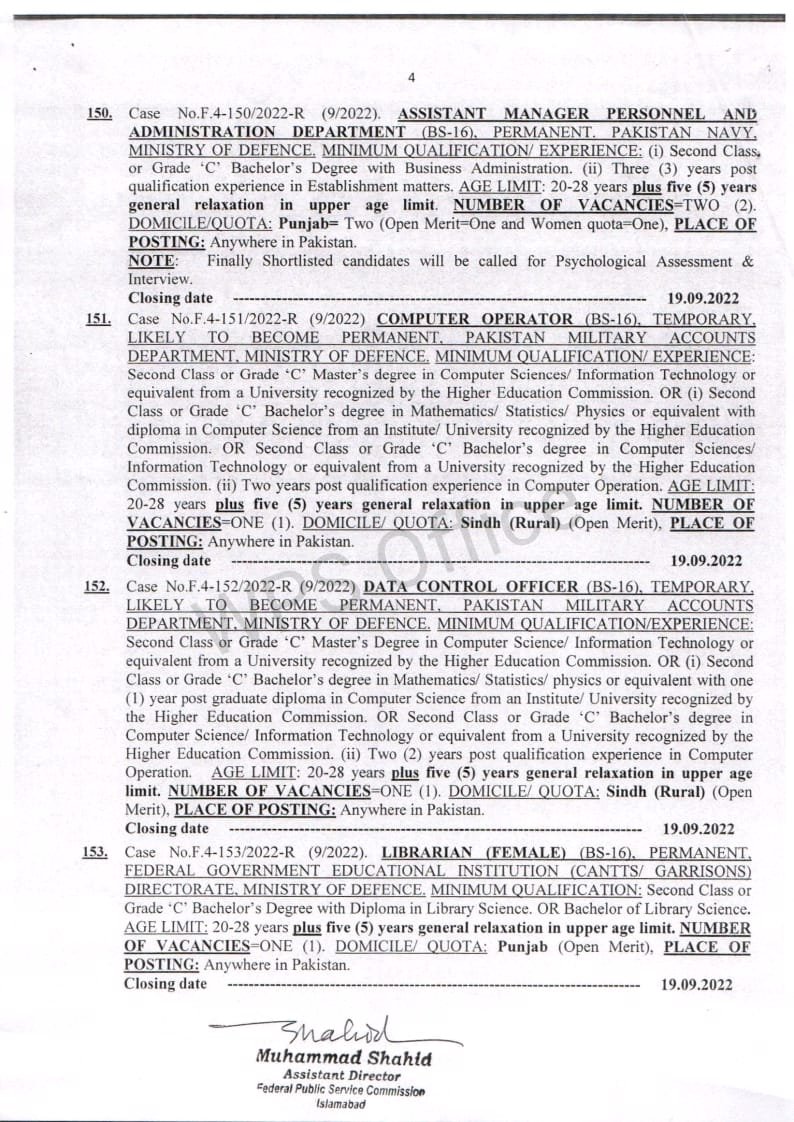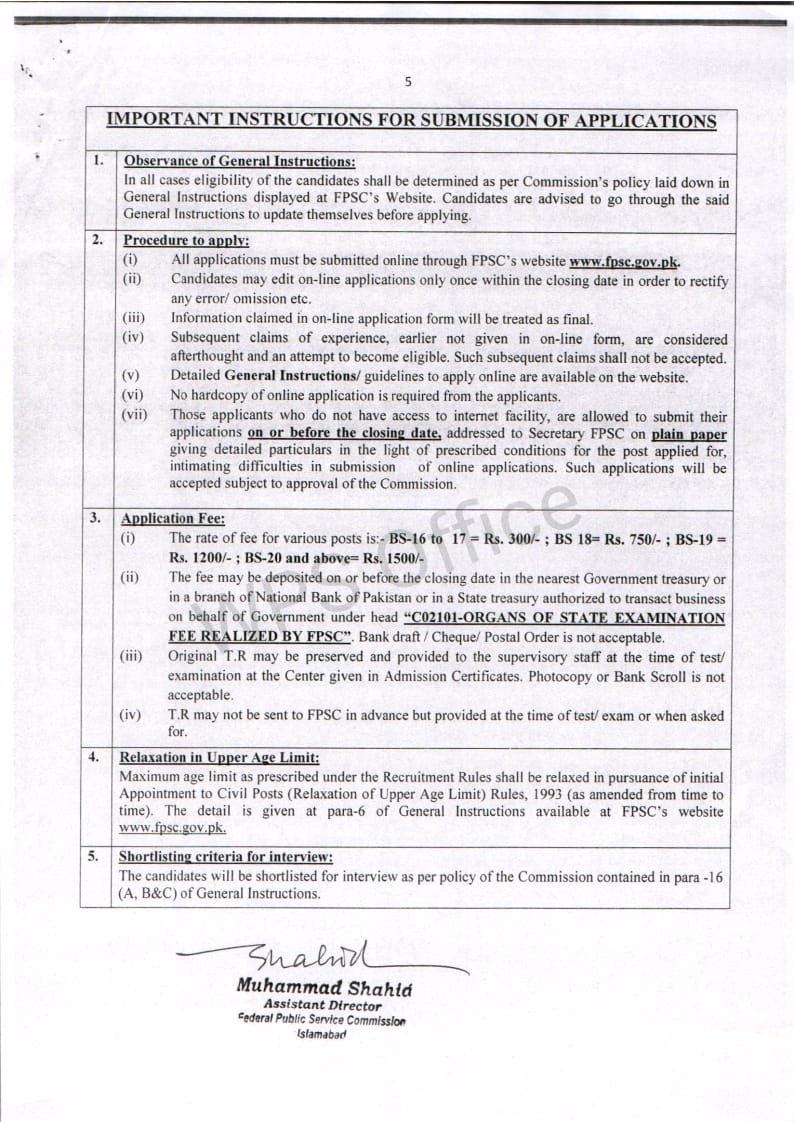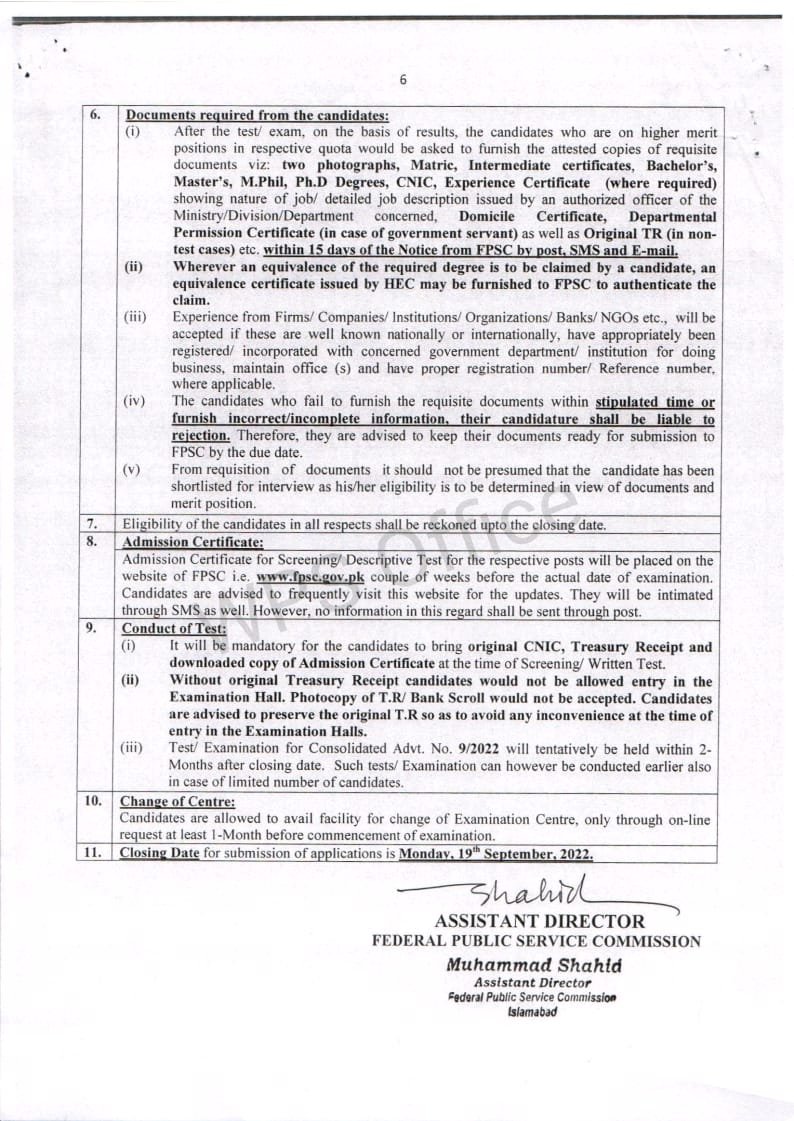 Last date to apply is 26th Septmeber 2022
Also if you want latest merit based Scholarships, CLICK HERE
Latest Jobs KPK, Khyber Teaching Hospital
Latest Jobs KPK announced in Khyber teaching Hospital Medical training Institute.
The details of the latest jobs kpk are given below.
Latest Jobs KPK (KTH) Details:
S.No
Name Of Post
Post Type
Qualification
1.
Experiential registrar
a)General medicine
b) Gastroentrology
c)Neurosurgery
d)Psychiatry
e)General Surgery
Contract
MBBS with FCPS/MRCP
2.
Trainee Registrar
a)General Medicine
b)Ophthalmology
c)Pulmonology
d)Pediatrics Medicine
e)Anesthesia
Contract
MBBS with Post graduate fellowship training
3.
Experiential Registrar
Medical ICU
Contract
MBBS with PMC recognized university
4.
Accident&Emergency
Medical Officer
Contract
MBBS + Training
5.
Respiratory therapist
Contract
BS degree in Respiratory therapy or ICU
6.
Biotechnologist
Contract
MSC Biotechnology
7.
Lab Technician
Contract
Diploma in lab Technology
Official Advertisement + How to apply: