Govt latest Jobs, Pakistan Post jobs, full details| Opportunity for fresh graduates
Pakistan Post has announced several vacancies for fresh graduates.
There are full details of the Pakistan post jobs 2022. Have a look and the application procedure is also mentioned in the images below.
Pakistan Post Jobs 2022:
Applicants have 10 days to submit the application.
Note:
Candidate who are applying for LDC and UDC or assistant post should have completed the online Basic IT training.
Basic IT training for assistant posts:
Students who are interested in applying for assistant post. Or who are interested in LDC or UDC posts. They should have completed the basic IT training from NITB ( national IT board). To know How to complete Basic IT training online, Click here.
New KPK Jobs, KHYBER PAKHTUNKHWA FOOD SAFETY & HALAL FOOD AUTHORITY

Applications are invited for eligible candidates for new KPK jobs 2022. Khyber Pakhtunkhwa Food Safety and Halal Food Authority has announced new jobs in KPK. These new kpk jobs are purely on contract bases for the period of 2 years. The details of these jobs are given below in the table.
New KPK Jobs details:
S.No
Name of Post
No Of post
Qualification
Age Limit
1.
Laboratory analyst (BPS-16)
Total: 5
Open= 01
Zone 1=01
Zone 2=01
Zone 4=01
Zone 5=01
M.Sc hons or 18 years
equivalent education in
food science and tech
25-35
2.
Driver (BPS-05)
Total= 05
Zone 1=01
Zone 2=01
Zone 3=01
Zone 4=01
Zone 5=01
Matric
LTV Driving License
18-35
Last date for these new KPK jobs is 11 Nov, 2022
The terms and conditions will be given below in the official advertisemnet.
The application procedure will be through ETEA official website.
KPK jobs Advertisement:
Many jobs and scholarships require Nadra family registration certificate, Click here to see how to get it
Govt jobs 2022 in Pakistan, Latest updates
Govt jobs 2022 in Pakistan, Latest updates are given below in the official advertisement.
Last date to apply is 19th Oct 2022. These are health related jobs. Doctors can also apply.
Govt jobs 2022 in Pakistan Advertisement: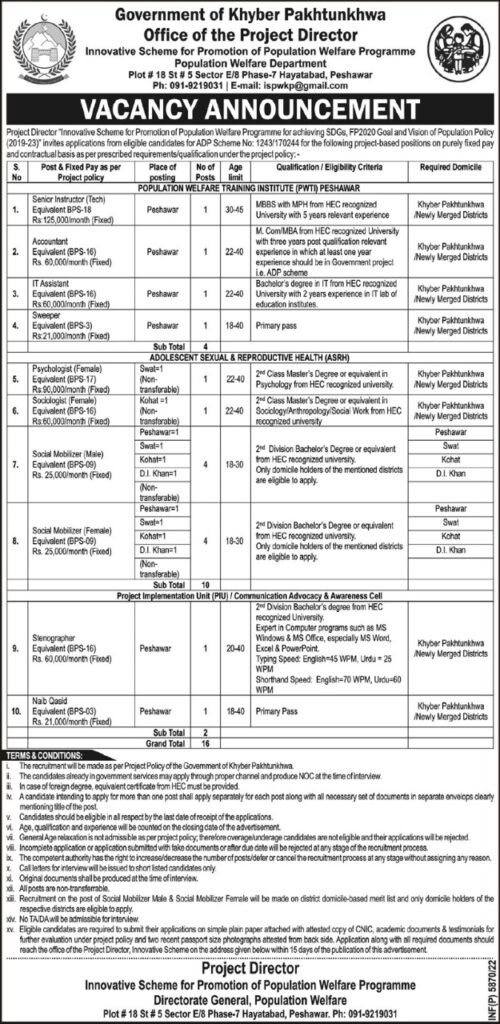 Post required for new govt jobs 2022:
Senior Instructor
Accountant
IT Assistant
Psycologist
Sociologist
Social Mobilizer
Stenographer
Naib Qasid
Sweeper.
Salary:
These are project based jobs and salaries are subjected to Special pay scale and fixed salaries. but there are handsome salaries as compared to other projects.
Final Note:
Proinfodesk is trying it's best to get you to your destination jobs. Specially govt jobs. We give latest updates about every job posted in Govt Deptt as soon as possible.
So please don't forget to like, share and subscribe to the website's push notifications. So that you can not miss any job updates.
Thanks!
New govt jobs 2022 announced in govt department in Rawalpindi.
From BPS 1 to BPS 10 new govt jobs 2022.
All the details are given below in the advertisement.
New Govt Jobs 2022 advertisement:
Apply form for new Govt jobs 2022
Last date to apply is 20th October, 2022