Chevening Scholarships updates 2022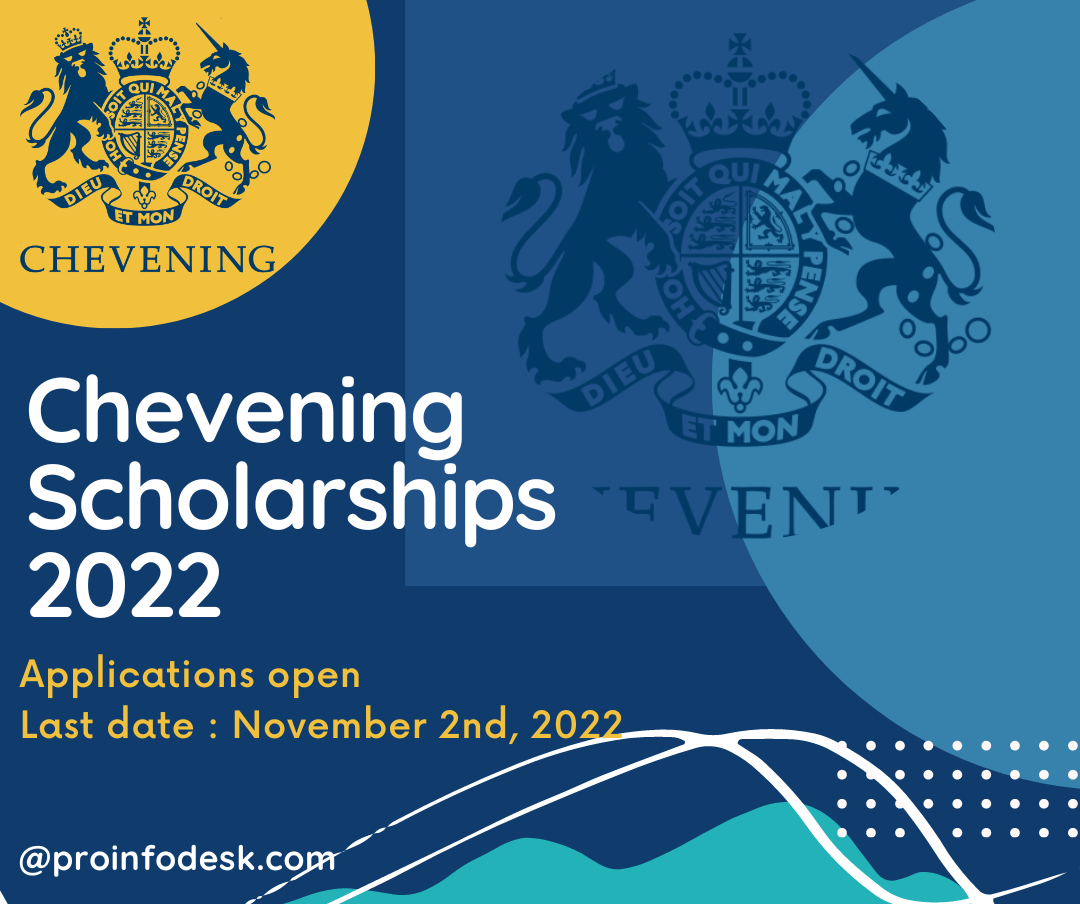 The Chevening Scholarships; an international scholarship programme offered by the UK government for master's-level studies at prominent UK universities. Outstanding professionals from all around the world are given Chevening scholarships to study for a one-year master's degree in any field at any UK university.
Chevening offers fully-funded scholarships (flights, lodging, and course fees are all included). That allows you to concentrate on reaching your academic objectives and having the time of a lifetime.
The deadline for British Chevening Scholarships applications is November 2, 2022.
Chevening Scholarships details
The Chevening Scholarships is a fully funded scholarship to study in UK Universities. The scholarship covers:
Full Tuition Fee
Monthly Stipend
Travel cost to and from the UK
Arrival Allowance
Cost of one Visa application
Travel allowance to attend chevening Scholarships events in UK
A homeward departure allowance
Eligibility Criteria
citizen of a nation or region that qualifies for Chevening (Pakistan included)
For at least of two years after your award has finished, go back to your home country.
Completed a bachelor's degree and have worked for at least two years, or 2,800 hours.
Apply to three relevant UK university courses, with one of your top selections having unconditionally accepted your application.
How to apply For Chevening Scholarships 2022
All Chevening applicants must submit their transcripts, letters of recommendation, and one unconditional offer from a UK university.
The application timeline includes the due dates for these necessary documents. To upload them, click the "edit my application" option up top.
You must have submitted these documents to continue in the process even if you are ultimately conditionally chosen for a Chevening Scholarship.
Selection
At each stage of the selection process, if you apply for a 2022–2023 Chevening Scholarship, you will get email updates about the status of your application. Additionally, you can check your application status online. Log in with the information you used to register. To get a clearer idea of the future steps in the selection process, look at the Chevening application timeline and our FAQs.
Google Scholarships for Pakistani Students
Social Media platform google has announced 15,000 google scholarships for Pakistani Students. While in addition to this, the digital training opportunities will also be provided under the Scholarships google certificates.
In this regard google has introduced career certificates aimed to providing Pakistanis with flexible learning pathways. So that they acquire the most sought-after digital skills required for employment.
In its mission to 'Unlock Pakistani's Digital Potential', google has reinforced its commitment by awarding 15,000 scholarships this year through its local partners; Institute of Rural Management (IRM) and Ignite.
According to the report by Alpha Beta, if fully exploited, Digital technologies could generate an annual economic growth of 9.7 trillion PKR in Pakistan by 2030.
This effort is an expression of Google's commitment under which google wants to play an important role in ensuring the development of countries digital ecosystems. This certification program will open up new opportunities and enable developers, students and teachers to grow faster.
For google Scholarships for Pakistani Students Click Here
Latest Merit Based Scholarships Pakistan
Nobel Testing and processing agency has now announced the latest merit based Scholarships pakistan. These Scholarships will be awarded to those students who will pass the NTPA test and appear in merit.
These Scholarships are for all the Pakistani Students. And for each level. These scholarships are for each level from matric to PhD students.
National Talent olympiad Pakistan:
NTPA will organize a test for these Scholarships. the test is known as National talent olympiad test. Scholarships will be awarded on merit bases.
Terms and Conditions for NTPA Scholarships Pakistan:
All Pakistani students can applybe regardless of private or govt Institutions
National level position holders will be given awards and certificates.
Participation Certificates should be given to all the appearing certificates.
How to apply:
Interested candidates should visit the nta.org.pk website to download and submit the form.
Scholarship value is about 1 million
Important note is that test will be online.
Last date to apply is 15th Sep, 2022.
Official Advertisement:
USA scholarships for undergraduate students in Pakistan
UGARD: Undergraduate Semester exchange program in USA universities:
USEFP United states educational foundation Pakistan has announced UGRAD 2023 program for Pakistani Students. A good opportunity for scholarships for undergraduate students in Pakistan. All the students enrolled in a University in Pakistan can avail this opportunity. Students can exchange a semester with a university in the USA.
The UGRAD-Pakistan program gives a chance to the Pakistani students to study one semester in any university in USA.
Eligibility:
The students must be enrolled at a Paksitani University
The student must be enrolled in 14th or 15th year of academic career.
25 year old or younger
Should have strong leadership qualities
Must be interested in learning about United states
Proficiency in English
Financial Covering:
Round trip Airfare
Tuition and Fees
Housing and Meals
Limited Allowance for books
Accidents and sickness coverage
Monthly Allowance
How to apply:
Apply through the online application HERE
All the documents required are to be submitted with online application
Scanned copies of University transcripts are also required.
Selected students will be contacted shortly.
Last date to apply:
Last date for online application submission is 21/9/2022
Scholarships for undergraduate students in Pakistan: